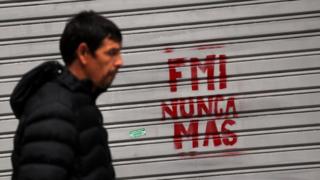 The International Monetary Fund has agreed to lend Argentina up to $50bn (£37.2bn) as the country seeks to bolster its struggling economy.
The three-year agreement must still be approved by the IMF board.
Argentina, which has been plagued by economic problems for years, asked for assistance from the IMF on 8 May after its currency hit an all-time low.
The country has committed to tackle its double digit inflation and public spending as part of the deal.
"The [Argentine] authorities have indicated that they intend to draw on the first tranche of the arrangement, but subsequently treat the loan as precautionary," the IMF said in a statement on Thursday.
Argentine President Mauricio Macri's decision to ask the IMF for help was criticised by many within his country.
The IMF is widely loathed and blamed for Argentina's 2001 economic collapse after it pulled the plug on the country and denied it financial support.
But Mr Macri had said previously a fresh loan from the Fund would allow his government to strengthen a programme of growth and development "giving us greater support to face this new global scenario and avoid crises like the ones we have had in our history".
IMF Managing Director Christine Lagarde congratulated Argentine authorities on reaching the agreement.
"As we have stressed before, this is a plan owned and designed by the Argentine government, one aimed at strengthening the economy for the benefit of all Argentines," Ms Lagarde said.
"I am pleased that we can contribute to this effort by providing our financial support, which will bolster market confidence, allowing the authorities time to address a range of long-standing vulnerabilities."
---
Analysis
BBC South America business correspondent Daniel Gallas
It may seem like Argentina and the IMF are on opposite sides of the negotiations.
But in reality they both want the same thing.
Both Mauricio Macri and Christine Lagarde want to cut public spending to bring down inflation – the highest amongst G20 economies.
The $50bn deal will make Argentina move faster with its reforms.
It will have to reduce its fiscal deficit to zero by 2020 – one year earlier than it had promised.
The IMF is also aware of its nefarious reputation in a country that still blames the Fund for its woes.
So it included a clause in the pact to allow the government to spend more money on social programmes, if deemed necessary.
---
The IMF board is expected to vote on the deal in the coming days in Washington.
Alejandro Werner, director of the IMF's Western Hemisphere Department, and Roberto Cardarelli, mission chief for Argentina, are expected to address a press conference in Washington later on Friday.