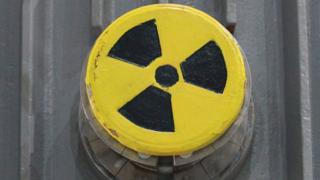 A US university faces a fine of $8,500 (£6,280) for apparently losing a small amount of weapons-grade plutonium.
The US Nuclear Regulatory Commission (NRC) said Idaho State University is unable to account for 1 gram (0.03oz) of the material.
The plutonium is used in reactors and to make nuclear bombs but the NRC says the amount missing is too small to make a nuclear weapon.
The university says documents show the material was on campus from 2003-04.
However, an NRC report says that in October 2017 three teams at the university conducted a physical search for the material and failed to find it.
"The NRC considers the loss of control of licensed radioactive material a significant regulatory concern because of the potential for unauthorised possession or use of licensed radioactive material or the unnecessary exposure of members of the public to radiation," a statement said.
Experts say that although the amount of plutonium is not sufficient to build a weapon, it could be used in a "dirty bomb" to spread radiation.
The university has not yet responded to the latest NRC statement.