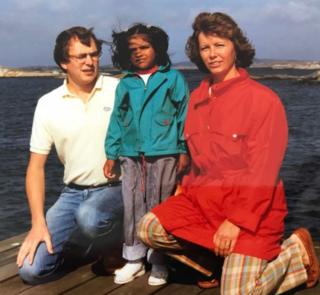 "The first time I saw my brother, I just froze.
"I couldn't say anything. We sat down on the sofa in his house. There was silence. Then I started to cry.
"The first words he said to me were 'don't cry'. Then he took my hand. Everyone who was there cried as well. It was a magical moment."
Kiran Gustafsson was 33 when she met her twin for the first time.
It was an unexpected twist to an already emotional journey. Kiran had returned to India to search for her biological mother. The last thing she expected to find was a missing twin.
Growing up in Sweden with her adoptive family, Kiran says she had warm and loving parents who gave her everything a child could want.
Her parents – retired teacher Maria Wernant and businessman Kjell-Ake – had always been open about the fact that she had been adopted from an orphanage in Surat, a city in the western Indian state of Gujarat, when she was three.
'Something was always missing'
Kiran says she has no memories of those early years.
"My parents never made me feel different. They always told me to be proud of what I am. I couldn't ask for anything more in my upbringing," she told the BBC.
Yet, she admits, she always felt something was missing. She was jealous of the connection between her two younger siblings for instance. She felt they were close to each other in a way they never would be with her.
As she grew older, she says that feeling of emptiness intensified. Finally she spoke to her family about it. They were very supportive and in 2000 the entire family undertook a trip to Surat.
She visited again in 2005, this time with her college class as a part of a course on sociology and human rights.
But these trips left her with more questions.
Back home in Sweden, she researched more about her adoption, found out more details about the orphanage she was adopted from. By 2010, she had made the decision to look for her biological mother but was not sure how to go about it.
"My parents were OK with my decision. They told me they were proud of me and they loved me," she said.
But she followed through on her decision only six years later.
In 2016, Kiran, now a career counsellor, found herself attending a lecture by Arun Dohle, the co-founder of the Netherlands-based NGO Against Child Trafficking. Like her, he was from India. Like her, he had been adopted.
In his talk, Mr Dohle outlined his own legal battle to get information about his biological mother in India.
Inspired, Kiran began communicating with Dohle. He connected her with child protection worker Anjali Pawar who agreed to help.
Through her inquiries, Ms Pawar was able to uncover Kiran's mother's identity. Her name was Sindhu Goswami and she had been employed as a domestic servant in Surat.
She also found that Kiran had been almost two when her mother had left her at the orphanage. But she made frequent visits to meet her there. She had also given the officials her work address.
Armed with this information, Kiran returned to India in April, accompanied by a friend. She met her mother's former employers but the information they gave her was not enough to go on. They couldn't tell where she was now, or if she was even alive. But they did give her a photograph.
"We look like each other," says Kiran.
Those were emotional days for Kiran. But the biggest shock was yet to come.
Ms Pawar had managed to find Kiran's birth certificate. And that was when she found out she had a twin brother.
"It was unbelievable. The questions about feelings of connection and belonging were answered. I was shocked. It was amazing," Kiran said.
She decided to start looking for her brother.
This was thankfully, not a difficult search. He had been adopted by a Surat family and was currently a businessman.
Meeting him was not easy though. It turned out his family had never told him he was adopted. They were reluctant to tell him. It took a lot of persuasion to get them to agree.
Eventually, the twins met in an emotional reunion.
"We discovered each other, but we still have so many questions. There is still sadness," Kiran says.
She says that her brother, who has asked not to be identified in the media for now, told her "that he had the exact same feeling that something was missing in his life."
"When we said goodbye that day it was still surreal so we didn't say much."
The siblings decided to meet at Kiran's hotel the next day to talk some more.
"He told me he was afraid of losing me again. And he didn't want to see me leave for the airport, so he left early," Kiran said.
"When we parted, he gave me a hug and just left with his father. In that moment I felt so empty. But he promised me that we would celebrate our next birthday together in Sweden."