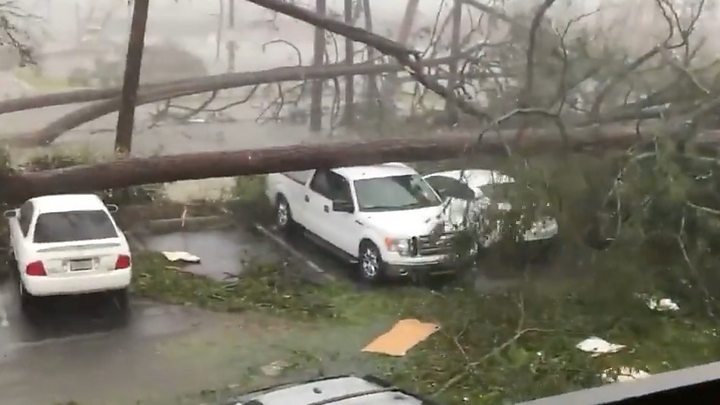 The most powerful hurricane ever to hit north-west Florida has flooded beach towns, submerging homes and snapping trees like twigs.
Hurricane Michael – now a category three storm with 125mph (200km/h) winds – made landfall on Wednesday afternoon in the state's Panhandle region.
It is so powerful that it remained a hurricane as it moved overland to bear down on Alabama and Georgia.
Michael's rapid intensification caught many by surprise.
Unusually warm waters in the Gulf of Mexico turbo-charged the storm from a tropical depression on Sunday.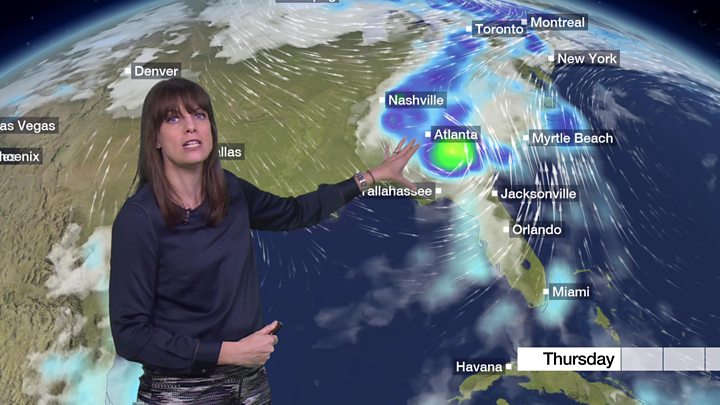 It was a category two hurricane by Tuesday, and a borderline category five on Wednesday morning, packing 155mph winds.
Florida Governor Rick Scott warned of "unimaginable devastation", saying it would be the worst storm in 100 years.
Michael reportedly killed at least 13 people in Central America: six in Honduras, four in Nicaragua and three in El Salvador.
The only reported death so far in the US is a man killed when a tree landed on his house in Florida, according to ABC News.
More than 370,000 people in that state were ordered to evacuate, but officials reckon many ignored the warning.
The coastal city of Apalachicola reported a storm surge of nearly 8ft (2.5m).
"We are catching some hell," Timothy Thomas, who rode out the storm with his wife in their home in Panama City Beach, Florida, told the Associated Press news agency.
Michael has already knocked out power to a quarter of a million homes and businesses, as power lines were smashed by falling trees.
"We are in new territory," Miami-based National Hurricane Center meteorologist Dennis Feltgen wrote on Facebook.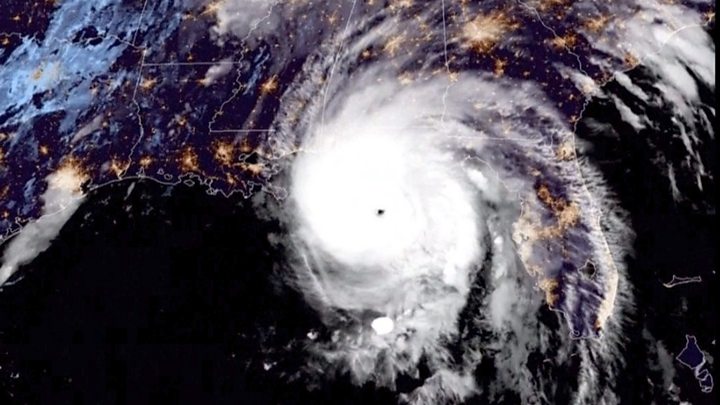 "The historical record, going back to 1851, finds no Category 4 hurricane ever hitting the Florida panhandle."
Reuters news agency reports that Michael is the third-most powerful storm ever to make landfall in the mainland US, after Hurricane Camille in Mississippi in 1969 and the Labor Day hurricane of 1935 in Florida.
Federal Emergency Management Agency Director Brock Long said at the White House that he was especially concerned about buildings constructed before 2001, and not able to withstand such high winds.
"We just hope those structures can hold up," President Donald Trump responded. "And if not, that they're not in those structures."
States of emergency have been declared in all or parts of Florida, Alabama, Georgia and North Carolina.
The hurricane made landfall near Mexico Beach, Florida, at around 14:00 (18:00 GMT) on Wednesday, according to the National Hurricane Center.
Forecasters warned parts of Florida could experience storm surges of up to 14ft (4m) and flash floods from up to 12in (30cm) of rain.
Schools and state offices in the area are to remain shut this week.
Florida has activated 3,500 National Guard troops.
More than 300 miles of coastline were under threat, the National Weather Service said.
Michael was forecast to move across south-eastern Alabama and south-western Georgia on Wednesday night.
It is still expected to be packing tropical storm-force winds when it reaches the Carolinas, which are already reeling from last month's Hurricane Florence.
---
Are you in the affected region? What preparations have you made? If it is safe to do so, please get in touch. Email haveyoursay@bbc.co.uk.
Please include a contact number if you are willing to speak to a BBC journalist. You can also contact us in the following ways: