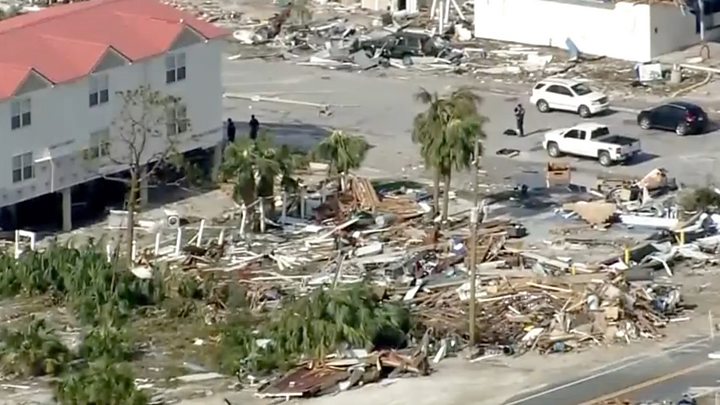 Hurricane Michael left "unimaginable destruction" as it ploughed into coastal areas of Florida, the state's governor, Rick Scott says.
"So many lives have been changed forever," he said. "So many families have lost everything."
The worst hit areas of Florida's northwest coast saw houses ripped from their foundations, trees felled, and power lines strewn across streets.
Hurricane Michael struck on Wednesday with winds of 155mph (250km/h).
It weakened to a storm as it moved inland towards the north-east, but at least six people have died, most of them in Florida.
More than 370,000 people in Florida were ordered to evacuate but officials believe many ignored the warning.
Governor Scott said the US Coast Guard carried out 10 missions overnight, saving at least 27 people.
Which areas are worst affected?
Michael ploughed into Florida's Panhandle coast near the town of Mexico Beach at 14:00 (18:00 GMT) on Wednesday, one of the strongest storms to ever hit the US mainland.
Ranked four on the five-step Saffir-Simpson scale and with a storm surge of 9ft (2.7m), it lifted homes from their foundations and heavily damaged others in districts closest to the sea in Mexico Beach, CNN helicopter footage showed.
Twenty survivors were found in the town overnight, AP reports, but 285 had refused to obey warnings to evacuate.
Head of the Federal Emergency Management Agency, Brock Long, called Mexico Beach "ground zero" due to the damage.
Trees were downed in Panama City, northwest of Mexico Beach, buildings flattened, boats and electrical cables scattered.
Apalachicola, with 2,300 residents, was also badly affected, the mayor reporting that downed cables were making it difficult to get through the town.
Debris and floodwater are also making some of the worst-hit areas difficult to reach.
Governor Scott urged residents not to return until the authorities "make sure things are safe", given the danger from power lines and other debris.
Who are the victims?
Six deaths have been confirmed – four in Florida, one in Georgia and one in North Carolina.
Florida officials say one man died when he was crushed in an incident involving a tree in Gadsden County.
In Seminole County, Georgia, a metal car-shelter lifted by a gust of wind hit a mobile home, killing a girl of 11.
Travis Brooks, director of Seminole County's emergency management agency, told ABC News there was "complete and total devastation".
Michael earlier reportedly killed at least 13 people as it passed through Central America: six in Honduras, four in Nicaragua and three in El Salvador.
Winds have knocked out power to more than 900,000 homes and businesses across Florida, Alabama, the Carolinas and Georgia.
Around 6,000 are thought to have sought refuge in official shelters, mainly in Florida.
What is the storm doing now?
With reduced winds of 50mph, according to the National Hurricane Center (NHC), Michael has moved north-east crossing Georgia and is closing in on Greensboro, North Carolina.
The NHC warned that communities in north-west Florida and North Carolina faced the threat of life-threatening flooding as rising water moved inland from the coast.
The Carolinas are still recovering from the floods of Hurricane Florence.
States of emergency have been declared in all or parts of Florida, Alabama, Georgia and North Carolina.