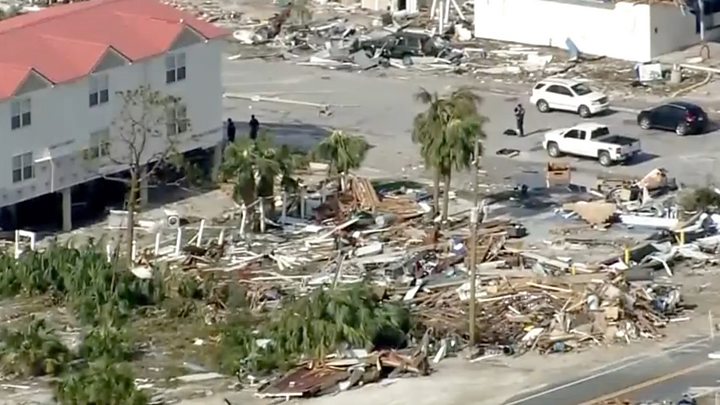 Rescuers are picking their way through devastated areas of north-west Florida amid fears the death toll from Hurricane Michael will rise.
At least 17 deaths have been confirmed so far in a swath of destruction stretching up to Virginia.
Rescuers have still to search the worst-affected areas of Florida's flattened Mexico Beach.
The hurricane, one of the most powerful in US history, struck on Wednesday with 155mph (250km/h) winds.
What is the latest death toll?
So far at least eight people are confirmed dead in Florida, five in Virginia, three in North Carolina and one in Georgia.
Rescuers using heavy machinery and trained dogs found the body of a man, the latest reported fatality, while searching through rubble on Friday in Mexico Beach.
But Brock Long, administrator of the Federal Emergency Management Agency (Fema), said the number of deaths was expected to rise as teams combed through badly hit areas in Mexico Beach, Port St Joe and Panama City.
Residents of Mexico Beach had been under a mandatory evacuation order, but it is believed at least 285 people among a population of 1,000 had stayed behind to ride out the storm.
Florida senator Marco Rubio said: "You hope that somehow at the last minute a bunch of people got up and left or went somewhere else."
Hundreds of people are still unaccounted for across the area, but this may simply reflect an inability to communicate with relatives, with mobile phone coverage out in many areas.
What have officials and residents said?
Florida Governor Rick Scott said as he visited Mexico Beach on Friday: "It's like a bomb went off. It's like a war zone."
He said more than 1,700 rescue workers had been deployed.
Interactive
See impact of Hurricane Michael in Mexico Beach
After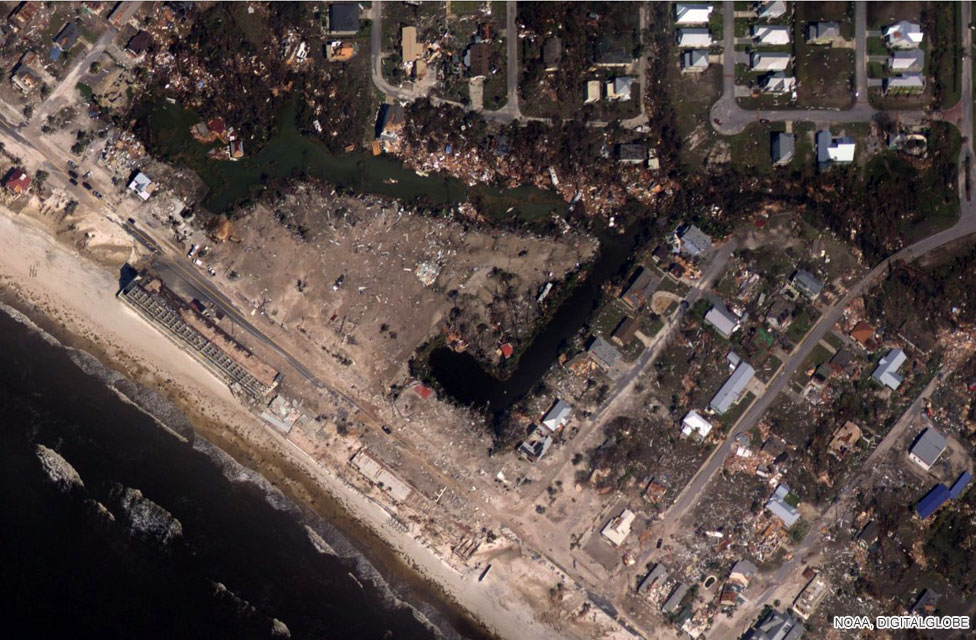 Before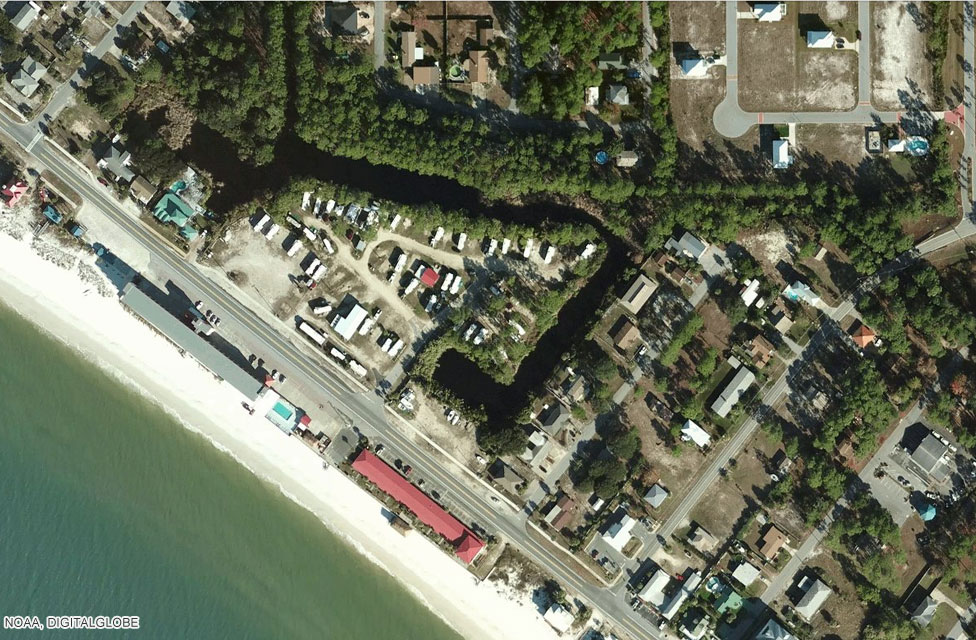 Mexico Beach mayor Al Cathey said: "When you walk down and see this… your emotions run away. This is just a small unique coastal community."
Mr Long said: "Very few people live to tell what it's like to experience storm surge, and unfortunately in this country we seem to not learn the lesson."
He added: "You have to build to a higher standard. If we're going to rebuild, do it right."
Many homes on the affected Florida coastline suffered storm surges of 12-14ft (3.7 to 4.3m).
The residents of Mexico Beach, those who stayed and those who evacuated and have now returned, were simply trying to come to terms with the destruction.
Tiffany Marie Plushnik, who left and returned to her home in Sandy Creek, told Associated Press: "I didn't recognise nothing. Everything's gone. I didn't even know our road was our road."
Danny Sinclair, 64, from Mexico Beach, told Reuters: "I don't think it will ever be the same. People will just pack up and leave."
Are rescue operations working?
Thousands of people were still in emergency centres on Friday.
Distribution centres have begun to spring up, but many residents remain desperate for basic services. Long lines had formed in some areas for fuel, food and water.
Interactive
See the destruction near Mexico Beach City Pier
After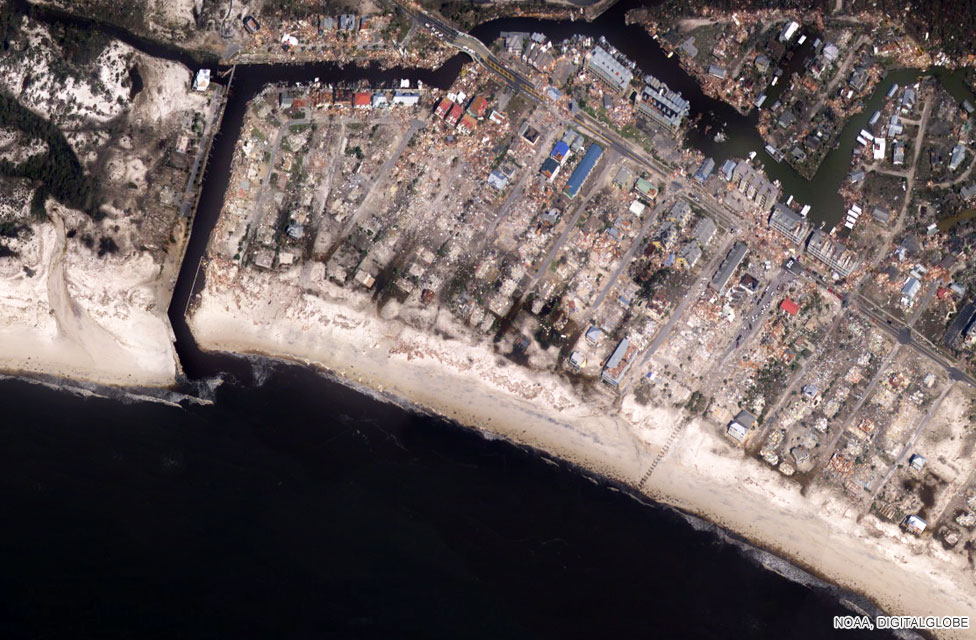 Before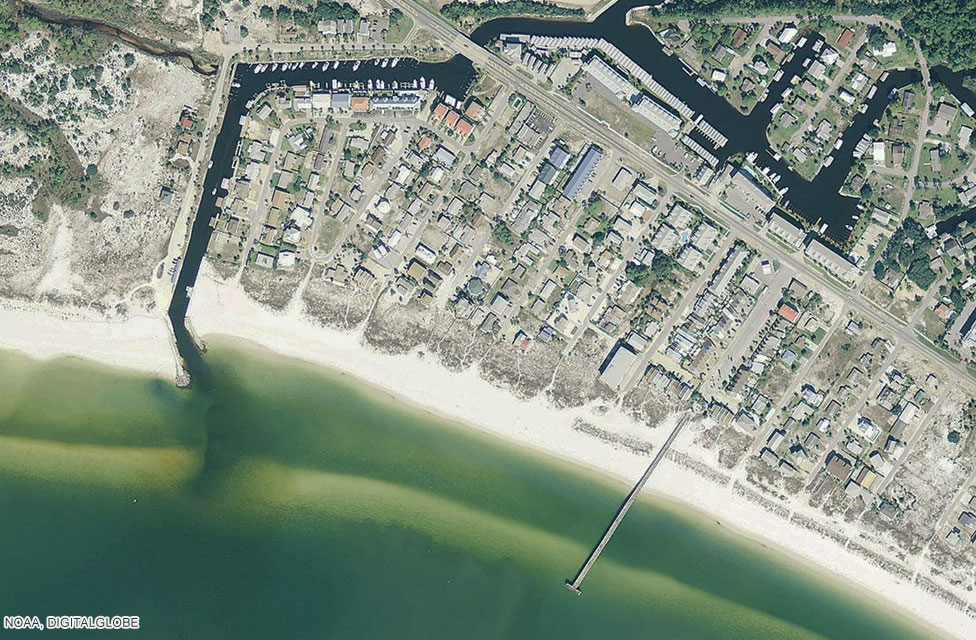 Retired army sergeant Lynette Cordeno, told the New York Times in Panama City: "We are walking around with no internet, no cell service, no way to even ask for help."
Resident Tracey Simmons told the paper: "We know that people are coming, but where are they?"
There are fears of unrest in poorer areas of affected towns and cities. Military personnel could be seen guarding one store in Panama City.
A spokesman for the Tyndall Air Force Base told the 3,600 men and women stationed there not to come back following their mandatory evacuation, with runways and buildings devastated.
At least 33 of its 55 F-22 stealth fighters, which each cost $339m (£257m), had been flown out ahead of the storm.
The air force said some planes remained for maintenance reasons, although it would not confirm the number or type. A spokesman said damage was likely but had still to be assessed.
Hundreds of thousands of people remain without power in Florida, Georgia and Virginia, and in some parts it could be weeks before it is fully restored.
An insurance firm, Karen Clark & Company, estimated Michael caused about $8bn (£6bn) of damage.
Michael is now a storm-force post-tropical low and is well out into the Atlantic Ocean, heading towards the Bay of Biscay.
---