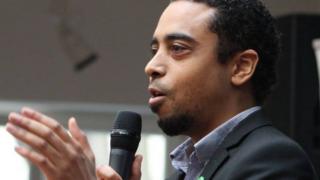 Hungary has a reputation for anti-immigration politics, but a young black liberal MP wants to revamp the country's image.
Olivio Kocsis-Cake, of the opposition Parbeszed (Dialogue) party, is being sworn in as an MP on Monday, taking a seat vacated by a colleague who is stepping down.
Mr Kocsis-Cake (pronounced "kochish-tsocker") has become a talking point in Hungary because of the strong anti-migrant rhetoric – particularly against non-whites – ratcheted up by members of the governing Fidesz party, its loyal national media and far-right groups like Jobbik.
"In the 1990s I was physically in danger a number of times when confronted by skinheads on the street. But now this is very unusual. Mostly I just get suspicious looks," Mr Kocsis-Cake told independent news website Index.hu.
Parbeszed won just five seats in the 2018 election, in which the right-wing Fidesz of Prime Minister Viktor Orban secured a super-majority of 133 seats and the ultra-nationalist Jobbik came second with 26 seats.
Parbeszed MPs sit in alliance with the Socialist Party and together they form a bloc of 20 seats.
One hallmark of Prime Minister Orban's political reign is an emphasis on blocking non-EU migrants from settling in Hungary, and identifying racial diversity as a threat to Hungarians' ethnic and cultural history.
The so-called "Stop Soros" laws – referring to George Soros, the Hungarian-American billionaire philanthropist – going through parliament will criminalise efforts by civil society groups to assist asylum seekers.
Last month Mr Orban said his priority was to "preserve Hungary's security and Christian culture".
Hungary rejects an EU scheme for resettling refugees EU-wide and has built a formidable fence on its southern border to keep migrants out.
"Fidesz always finds an enemy of the day who must be hated. Brussels, Soros, refugees, the homeless, or the Roma (Gypsies)," Mr Kocsis-Cake recently told Nepszava newspaper.
He said Fidesz ought to focus more on helping the needy and improving healthcare and education.
"Fidesz has been pursuing a hate campaign in recent years. I want to destroy the prejudices and stereotypes that Fidesz has planted in Hungarian society about immigrants," he told Index.hu.
"That we have to fear immigrants; that they cannot integrate – these are obviously ridiculous notions. I am living proof that you do not have to be afraid of someone else's skin colour."
Two different generations
Olivio Kocsis-Cake was born in 1980. His mother is Hungarian and his father, from Guinea-Bissau, came to Hungary via Senegal in 1976, aged 18.
Like many students invited to communist Eastern Europe from developing countries, Marcelo Cake-Baly studied and graduated at the Karl Marx Economics University. He settled and found work as a Budapest tram-driver and was even a one-time film actor.
Growing up in Budapest, his son Olivio Kocsis-Cake went to school in a very different, post-communist Hungary. Various shades of nationalism flourished under multi-party democracy, and the socialist internationalism of the one-party state that had welcomed his father was assigned to history.
He graduated in history and sociology from the city's Péter Pázmány Catholic University.
He quit a role in the Politics Can Be Different (LMP) party in February 2013 and became a founding member of Parbeszed, where he worked as a campaign leader, then as a party director for four years. Now he is about to become a sitting MP.
In a recent interview, leftist Nepszava newspaper warned Mr Kocsis-Cake that Fidesz were targeting him, not because of his skin colour, but because of a link with their primary international hate-figure, Mr Soros.
"This Fidesz reaction was to be expected," he said. "Anyone who does not agree with their politics is immediately called a Soros agent.
"I did participate in a sponsorship programme, in which we researched education programmes for the Soros foundation. Opposition politicians are criticised for everything, in my case this will obviously include the colour of my skin. I have become used to it."
BBC Monitoring reports and analyses news from TV, radio, web and print media around the world. You can follow BBC Monitoring on Twitter and Facebook.