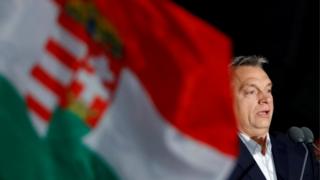 "We are not against these people," says Gergely Gulyas of refugees and migrants. "They suffered a lot. But at the same time it is no solution for Europe to become a new home for millions of people."
Mr Gulyas, 36, is the rising star in Viktor Orban's new conservative Fidesz government, which won Hungary's elections this month in a third landslide in a row.
And migration policy will be at the centre of this administration's communication strategy, as it was of the last. While other countries are free to choose to accept immigrants, says Mr Gulyas, Hungary has chosen not to. "And we expect other countries to respect our democratic decision."
Prime Minister Orban holds the ideological reins, but this trained lawyer, fluent in both English and German, is tipped for the powerful chancellery which handles the country's day-to-day business.
Mr Orban feels buoyed by his victory. And Western capitals will now have to do business with him for another four years.
German Chancellor Angela Merkel and UK Prime Minister Theresa May will visit in the coming weeks. That is because Hungary is part of Europe's Visegrad group of countries, along with Poland, Slovakia and the Czech Republic. And it beats the drum of national sovereignty the loudest.
Hungary's economy is booming – wages were up 13% last year, and growth up 4%. But it depends heavily on Germany and communications with Berlin have largely collapsed.
Some 300,000 Hungarians work for German carmakers, like Mercedes and Audi, and a host of medium-sized and smaller firms; 30% of Hungary's trade is with Germany.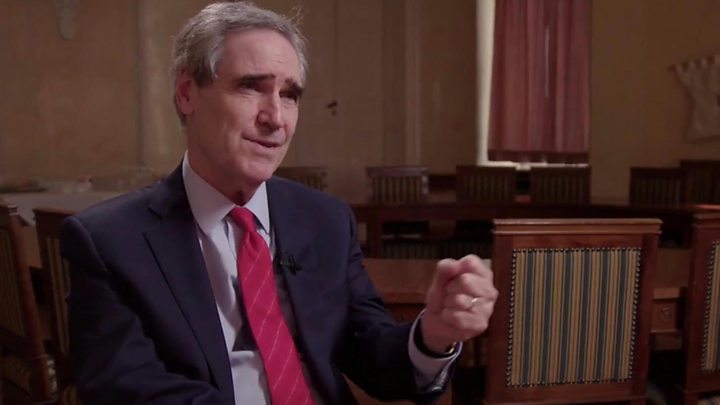 As Mr Orban prepares to present his new government on 8 May, his opponents have been gathering in the squares.
"Don't cheat, don't steal, don't lie – because the government doesn't tolerate competition," read one of the posters at a rally of 100,000 protesters, on 14 April.
That was followed by another protest of similar size on 21 April. A third has been promised for 8 May, as parliament assembles.
Among those who addressed the protests was rapper G-Ras.
"Finally the freedom-loving people are showing their power," he told the BBC.
Protest organisers hope that a new opposition movement with new leaders will replace or co-opt the existing, weak and fragmented opposition parties.
"The opposition do not represent us, because they were unable to co-operate for the people and put their differences aside," says G-Ras.
In Hungary's new parliament, Fidesz will have 133 seats, while the remaining 66 are shared between six wounded and disgruntled parties.
The main danger for the opposition is that Hungarians will not wait for the next elections, but vote immediately with their feet.
The phone never stops ringing in Marcell Tanay's spacious office in the heart of Budapest's sixth district. He runs EUWork, Hungary's largest recruitment agency to help people find work abroad. Many of his clients are aged 25 to 35, well-qualified but frustrated by low salaries.
That is bad news for a government desperate to persuade Hungarians to stay at home and have more babies.
There are growing shortages in most professions, including catering, healthcare, construction, IT and public transport.
Katalin Novak, 40, is set to take on the role of minister of family policy in Mr Orban's new government. Hers will be the daunting task of finding ways to reverse the drastic decline in Hungary's population.
The prime minister knows how important that is. Three years ago he warned that Hungary's very future was at stake.
"In the history of the world, not a single culture that was unable to populate the land in which it lived was able to survive."