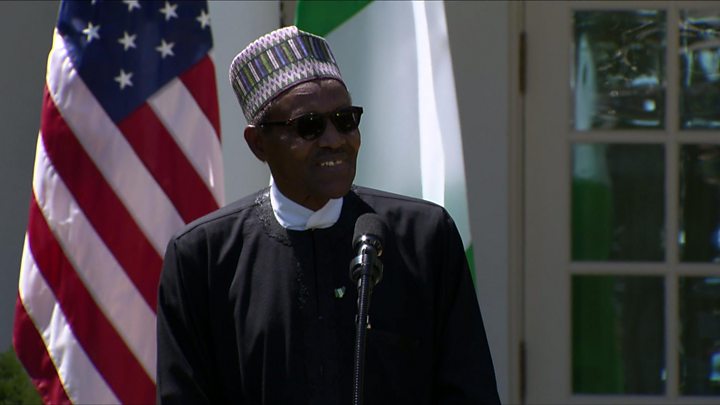 Nigeria's Muhammadu Buhari became the first president from sub-Saharan Africa to visit Donald Trump's White House on Monday. But even after they neatly avoided Mr Trump's alleged comments about "shithole" African countries, the US president managed to stir controversy in Nigeria, writes the BBC's Stephanie Hegarty from Lagos.
Perhaps warning bells rang when Mr Trump started off asking Mr Buhari how he was getting on with "that Boca Haram", a reference to militant Islamist group Boko Haram.
But then again, maybe that slip of the tongue was predictable.
Less so was what he said next, as the former reality television star weighed in on the conflict between herdsmen and farmers in Nigeria's Middle Belt – or the way in which he would frame it.
"We have had very serious problems with Christians who are being murdered in Nigeria," Mr Trump said. "We are going to be working on that problem very, very hard because we cannot allow that to happen."
'Genocide'?
The US president showed little understanding of a very complicated and intensely politicised crisis – one which has a battle between nomadic cattle herders and settled farmer over access to land and grazing rights at its centre.
But perhaps it should not come as any surprise. Mr Trump has always been quick to jump to the defence of Christians in conflicts such as Syria and Iraq and comments like this play well to his base among Evangelical Christians in the US.
But his point of view also plays into popular feeling among some Nigerian Christian groups.
It is a widely touted refrain that the conflict between farmers and herdsmen constitutes a "genocide against Christians".
It is hard to support this claim with any fact: there have been many killings on both sides in this conflict.
But the recent attack on a Catholic church by suspected Fulani herdsmen and the murder of 17 people, including two priests, have added fuel to the flames of those who want to frame the conflict in this way.
After that attack a priest in the area told the BBC he was doing what he could do prevent young Christian men from his parish launching random reprisal attacks on Muslims. Clearly then, Mr Trump's words then make for dangerous rhetoric.
But many Christian leaders have taken to mainstream and social media to push this narrative, jumping upon Mr Trump's comments as a kind of vindication of their own claims.
In response, Nigerian Muslim advocacy groups have criticised his comments.
In a statement, the director of the Muslim Rights Concern, Ishaq Akintola, said they were "prejudiced, parochial and unpresidential" and claimed that Mr Trump "is luring Nigerian Christians into bolder confrontation with Muslims".
With elections due in February 2019, there is an intensely political side to all of this. President Buhari has announced his intention to re-run for office. He is a Muslim and a Hausa-Fulani.
Much of the conversation on this crisis falls along these ethnic and political lines – Christian vs Muslim; Hausa-Fulani vs everyone else. In reality, the conflict falls along lines that are much less easily defined.
During the press conference, Mr Buhari was quick to deflect the Christian comment.
He immediately re-farmed the conflict to one between farmers and herdsmen, saying: "The problem of cattle herders is a very long historical problem. Before now, cattle herders were known to carry sticks and machetes… but these ones are carrying AK-47s."
As he has in the past, he went on to explain what is happening as a consequence of former Libyan leader Muammar Gaddafi's arming of "mercenaries".
Mr Buhari claimed they are now returning to West Africa and causing trouble.
Whether Gaddafi's former soldiers are responsible for this crisis or not, there is a point to be made here. Since the crisis in Libya began, guns have been flooding into West Africa through the Sahel – just as migrants have been rushing in the other direction.
Last year, the Director of UN's Regional Center for Peace and Disarmament in Africa said 70% of the illegal small arms imported to West Africa end up in Nigeria, according to PRI Nigeria.
But if Mr Buhari felt any exasperation at Mr Trump's unexpected comments, it was quickly brushed under the carpet.
Despite the rhetoric which does little to promote peace in Nigeria's central region, the two leaders came across as firm friends.
Instead, in true Trump style, the two men patted each other on the back over a recent "deal": the sale of 12 US military aircraft to Nigeria.
And another bone of contention was artfully avoided – Mr Trump's allegedly ungracious comments in January comparing African countries to a toilet.
While many Nigerians had hoped their president would take Mr Trump to task, Mr Buhari admitted he did not bring it up.
Instead, Mr Buhari, standing in the Rose Garden, reiterated his deep appreciation for the invitation. He seemed to shrink into the background as Mr Trump took centre stage, complimenting Nigeria as a beautiful country and professing his desire to visit Africa's most populous state.