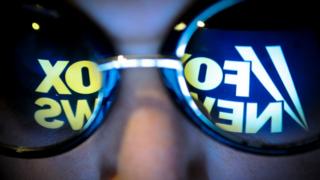 The creator of hit TV show Modern Family says he's "disgusted" to work for the same company that owns Fox News. The maker of hit TV show Family Guy, Seth MacFarlane, says he's "embarrassed" to work for Fox.
Hollywood has managed for years to stomach the connection between Fox News and the Murdoch family's vast entertainment empire. But recent coverage on Fox News of children being separated from their parents and detained on the US-Mexico border has driven some Hollywood heavyweights to question the Fox name on their pay cheques.
Many were incensed when Fox News host Laura Ingraham likened detention centres for children to "summer camps". And after Fox News host Tucker Carlson told viewers not to believe anything they hear on other news outlets, MacFarlane donated $2.5m (£1.9m) to National Public Radio.
Steve Levitan, the Modern Family creator, said on Twitter that Fox News' "23-hour-a-day support of the NRA (National Rifle Association), conspiracy theories and Trump's lies gets harder to swallow every day as I drive onto that lot to make a show about inclusion." Modern Family airs on ABC but is made at Fox.
Fox has not responded to a request for comment.
A handful of actors and writers have joined the chorus of social media protest against Fox.
Filmmaker Judd Apatow – who says he hasn't worked for Fox in 16 years on principle – has been leading the social media charge, urging more insiders to speak out against Fox News.
"The collective silence of the employees of Fox at all levels has to end," Apatow wrote on Twitter Wednesday. "I am asking them to voice their opinions about this madness. They are influential people. They should let their bosses know they shouldn't support child abuse!!! Babies are being put in jails."
But Apatow is unlikely to get what he wants in the form of a mass protest from Fox employees.
Trump official booed at Mexican restaurant
In Hollywood, the Fox brand is synonymous with quality film and TV.
In a dark cinema, the trail at the start of hits like Star Wars, 12 Years a Slave, or Little Miss Sunshine opens dramatically – the Fox spotlights hit the screen and are followed by a dramatic drum roll and orchestra ushering in some of Hollywood's most beloved hits.
At the Fox studio lot in Los Angeles, billboards and the shops showcase The Simpsons and Star Wars – not Fox & Friends. There are no billboards of Fox News stars Tucker Carlson or Laura Ingraham on display.
And for years Hollywood has managed to sleep easy with Fox's connection to its conservative news channel, which one producer likened to Hollywood's "drunk uncle" at a family dinner. You roll your eyes and try to move on when your uncle starts talking politics.
"It's bursting to the surface of this underlying tension that's existed for years now between the television and movie side of Fox and Fox News," says Sharon Waxman, the CEO and Editor-in-Chief of TheWrap.
Wendy Molyneux, a writer for Bob's Burgers on Fox, wrote on Twitter that Fox's entertainment division "is progressive and open minded, but brought down by the despicable news division".
She added that Fox may have "a hard time holding on to artists".
But with Disney and Comcast both bidding for Fox's entertainment empire, Hollywood's Fox employees won't be connected with Fox News for long.
Comcast has made a $65bn (£49bn) all-cash offer for Fox's entertainment assets – prompting speculation of a bidding war with Disney. But any sale will take a year or more to be completed.
The profitable Fox News would not be part of any sale and would remain in the control of Rupert Murdoch.
The impending merger is also grounds for silence as Hollywood's executives, producers and directors watch nervously as the old studio system consolidates and goes through a massive restructuring amid the rise of streaming services and a new digital audience.
"Everyone who has a deal at Fox has no idea what's going to happen to them in a year," said one producer who has worked with Fox and did not want to speak on the record.
"If you have a TV show at Fox, no one knows if you're going to have a show in a year."
Several agents, managers and producers in Hollywood said it would be a luxury few could afford to protest Fox now.
One asked why be a "political pawn" when the news cycle will move on so quickly and you could damage your career for "some chest beating that won't change anything".
Several people interviewed said they'd like to protest but fear they would be ostracised or sued for breaching contracts.
"Can you imagine if James Cameron called up and said I'm not working " on Avatar until Fox News changes its coverage?" one manager with clients at Fox asked.
Cameron would be sued and Fox would bring in someone else to finish his film, the manager said.
One filmmaker who frequently works for Fox said it's the Trump administration and Congress, not Fox who are responsible for upholding human rights on the border.
"It doesn't make me want to boycott Fox," the filmmaker said. "It makes me want to not pay my taxes."
Apatow and others protesting publicly on social media are being ridiculed as "Hollywood hypocrites" by supporters of President Trump.
Ms Waxman, at TheWrap, says many artists in the entertainment industry will view Apatow and MacFarlane and other protesters as courageous.
"Donald Trump is despised in Hollywood. That is not an overstatement," Ms Waxman said.
"The fact that Fox News stands up for him night after night after night and we're in the crucible of this very tense and emotional – and I'll just say painful – application of this policy of separating immigrant families is I think it's just come bursting up like a volcano waiting to explode."