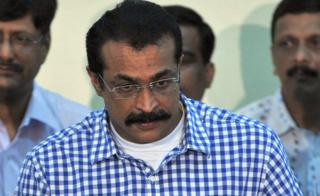 One of India's most senior police officials has killed himself in the western city of Mumbai, senior officials have confirmed.
Himanshu Roy, 55, who was the head of the anti-terrorism squad in Maharashtra state, shot himself at his home.
Mr Roy had been on a long medical leave as he was suffering from cancer.
He is credited with solving some of India's most sensational cases, including the assassination of a senior journalist by a mob boss.
Other high-profile cases he solved include the murder of Bollywood actress Laila Khan, whose disappearance had created headlines.
A former state minister told BBC Marathi that he had met Mr Roy on Thursday, where he had told him that "chemotherapy has its limitations".
His death has caused shock in India, where he was popularly referred to as "super cop".