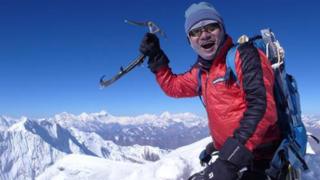 The bodies of nine climbers who died when a violent snowstorm destroyed their camp on a Himalayan peak in Nepal have been retrieved.
The five South Koreans and four Nepali guides were found scattered across the base camp near Mount Gurja, a 7,193m high peak (23,600ft).
They were found to have suffered broken bones and head wounds in Friday's storm.
The incident is the worst climbing accident to hit Nepal in two years.
The crew of a rescue helicopter began retrieving the victims on Sunday, after attempts the day before were halted by strong winds.
"It seems that seracs [glacial ice] and snow fell from high on the mountain and the strong gusts of winds from that hit the campsite, throwing the climbers off," one rescuer, Suraj Paduyal told news wire AFP.
"The camp was completely destroyed," the BBC heard from Myagdi district official Liladhar Adhikari.
"We assume that the camp may have been set up at a higher altitude than normal, but we will know what exactly happened after a thorough investigation."
Expedition organisers raised the alarm after losing contact with the group, which set off on 7 October, for nearly 24 hours.
The bodies were brought to Nepal's Pokhara airport and flown to Kathmandu TU Teaching hospital by helicopter.
Grieving relatives received the bodies of the local Nepalese guides.
The bodies of the five South Korean climbers are expected to be returned to Seoul as early as Wednesday, according to an official from the Corean Alpine Club speaking to Yonhap news.
Experienced climber Kim Chang-ho, the first South Korean to reach the summits of the world's 14 highest mountains without using supplemental oxygen, is among the dead.
The climbers – led by Mr Kim – had been waiting for a window of good weather so they could reach the summit, when the storm hit Friday.
The rarely-climbed Mount Gurja sits in Nepal's Annapurna region, next to avalanche-prone Dhaulagiri, the world's seventh highest mountain.
The base camp, which is at least one-day's trek from the nearest village, is at 3,500m.
According to the Himalayan Database, no-one has stood on Gurja's summit since 1996.
Only 30 people have successfully climbed to its peak compared with more the than 8,000 people who have reached the summit of the world's highest mountain, Everest.