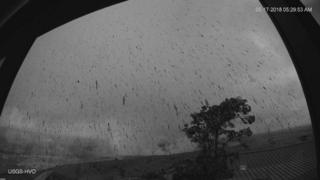 An explosive eruption at Hawaii's Kilauea volcano has sent ash many kilometres into the sky.
The US Geological Survey says the eruption took place at 05:00 local time (15:00 GMT).
Staff at the volcano observatory and the national park had been previously evacuated.
Since a new zone of Mount Kilauea began erupting almost two weeks ago, lava has wrecked dozens of homes and forced hundreds of people to be evacuated.
A red aviation code had already been issued – warning pilots to avoid the potentially damaging ash cloud.
The USGS had warned that an explosive eruption at Kilauea was becoming more likely as the volcano's lava lake was lowering. This means it interacts with the water table and creates steam – driving the blasts.
Hawaii's emergency management agency advised local people to shelter in place if possible.
Kilauea is one of five active volcanoes on the island of Hawaii.