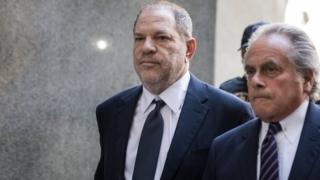 Disgraced Hollywood film producer Harvey Weinstein has formally pleaded not guilty to rape and sexual assault charges.
His appearance in New York Supreme Court on Tuesday came after he was indicted last week by a grand jury.
Mr Weinstein, 66, has previously insisted via his lawyer that he has never had non-consensual sex.
He could face up to 25 years in prison if convicted of either offence, which relate to two women.
The former film producer has been accused of sexual misconduct by more than 70 women.
He faces additional investigations in Los Angeles, London, and by the US federal government.
Wearing a black suit and tie, Mr Weinstein and his lawyer Benjamin Brafman walked past a crowd of reporters and photographers as they arrived at the courthouse in Manhattan.
Mr Brafman has argued that unfair political pressure was placed on prosecutors to secure a conviction because of the high-profile nature of the case and the rise of the #MeToo movement highlighting sexual harassment.
Mr Weinstein is currently free on $1m (£751,000) bail. He has agreed to wear a GPS tracker and to surrender his passport.