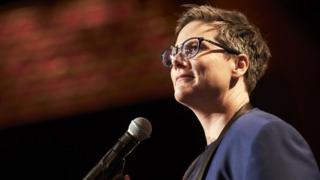 "What I would have done to hear a story like mine," Hannah Gadsby says in her widely acclaimed comedy show Nanette.
"To feel less alone, to feel connected."
Gadsby's emotional stand-up routine debuted on Netflix in June, and has resonated powerfully with its audience.
Over the course of an hour, the 40-year-old Australian riffs on her experience growing up gay in conservative Tasmania, and her struggle for self-acceptance.
Her jokes touch on sexuality and gender, and the entrenched misogyny in society. Harvey Weinstein, Bill Cosby and Picasso are all named.
However, it's her honest, searing insights into her personal pain, delivered in the second half of her show, which has won her tremendous acclaim.
Critics have called the routine – which won best comedy show at the Edinburgh Fringe in 2017 – groundbreaking. Comedians and other artists have urged their followers to watch it, and it has been praised for its insights into trauma and abuse.
Turning point
Jimmy Roberts from Sydney said he was only "half-watching" the show during its first half which "carries along in a self-deprecating, bumbling, awkward sort of way".
"And then suddenly it's like a switch's been flipped – you're watching a different person. It's like she stands up, and her voice is so strong and powerful and comes from a true understanding of herself."
For him, Nanette evoked memories of his own gay adolescence where "high school was a nightmare".
"For many of us who have experienced teasing and cruelty – we take these things to heart. They form these deep emotional triggers and it damages you for life," he said.
'I put myself down in order to speak'
The sudden turn in Gadsby's routine comes when she zeroes in on her comedy. She has diagnosed it as a harmful self-defence mechanism.
"Do you understand what self-deprecation means when it comes from somebody who already exists in the margins?" she asks the audience.
"It's not humility. It's humiliation. I put myself down in order to speak, in order to seek permission to speak. And I simply will not do this anymore."
From there, she unleashes an unflinching account of the physical and emotional damage she has suffered as a "non-gender-normal" lesbian.
She calls on society, specifically "straight, white men" to acknowledge the pain they have caused to those on the margins.
"Every time she raised her voice I wanted to shout with her," Keith Solabis, a queer, non-binary person from Sydney told the BBC.
"I felt seen – my internalised shame, my trauma, my struggles," the 25-year-old said.
"It was incredibly therapeutic while at the same time triggering. I actually cried so much I became sick and had to talk to a friend."
However, Keith says the global outpouring of praise for Nanette has been heartening.
"It's empowering to see that we don't have to live with that pain secretly and put up a happy face.
"It's not just laughter that can unite us – pain can too."
Olivia Hogarth attended the live show at the Sydney Opera House with her partner during its recording in January.
The 42-year-old gay caseworker, who grew up in the same region of Tasmania as Gadsby, told the BBC "the atmosphere in the room was palpable".
"I was actually crying, at the parts which rang so true to me."
Her home state only decriminalised homosexuality in 1997. Growing up, she says she was constantly aware that her identity was "somehow against the law".
"You know, this was my life, and I really appreciate that she's laid it all out there and just been so honest."
Gadsby herself has said she is "a little overwhelmed" by all the attention and "wonderful messages" about her show.
But she has also said this show will be her last. Her story – and that of other marginalised groups – is too important for self-deprecation.
"I've made my story into a joke," Gadsby says in the show. "And there's only so long I can pretend not to be serious.