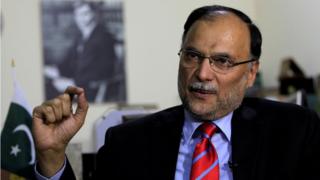 A gunman has shot and injured Pakistani Interior Minister Ahsan Iqbal while he was visiting his constituency in the north-eastern city of Narowal.
Mr Iqbal had just attended a rally in the Punjab city when he was hit at least once in the arm and taken to hospital. His life is not in danger.
The attacker, said to be a man in his early 20s, was arrested and was being questioned, officials said.
Pakistan is due to hold a general election on 15 July.
Mr Iqbal is a senior member of the governing Pakistan Muslim League (Nawaz).
Prime Minister Shahid Khaqan Abbasi "strongly condemned" the attack and called for an immediate report into the incident by Punjab's chief of police.
How did the shooting happen?
A senior government source told Reuters news agency early information suggested Mr Iqbal had been returning from a meeting with a Christian group.
"We are not sure whether it has got anything to do with the motive," the source said. "We will know only after investigation of the attacker."
Mr Iqbal was shot in the right arm, Punjab government spokesman Malik Ahmed Khan told AFP news agency.
"The attacker was about to fire a second shot when police and people in the meeting overpowered him," he said.
The minister underwent surgery after the attack.