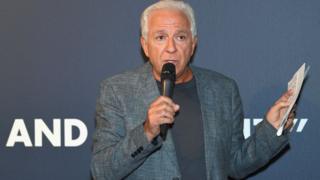 The co-founder of fashion brand Guess is stepping down as executive chairman following claims of improper conduct but will stay on its board until 2019.
Guess said that a special committee was unable to corroborate a number of allegations against Paul Marciano, including kissing and groping.
But it found that he "exercised poor judgement in his communications with models and photographers".
US-based Guess and Paul Marciano will pay $500,000 to five individuals.
The allegations against Paul Marciano, who remains as chief creative officer of Guess, first emerged in February when US model Kate Upton tweeted that it was "disappointing" Guess was still "empowering" him as its creative director.
Then in an interview with Time magazine, Ms Upton claimed he had sexually assaulted her.
Ms Upton allegations were corroborated by photographer Yu Tsai. Paul Marciano said the claims were "absolutely false".
In a statement, Guess said the allegations against Paul Marciano "included claims of inappropriate comments and texts, and unwanted advances including kissing and groping".
It said that investigators interviewed more than 40 people and reviewed around 1.5 million pages of documents.
Guess said: "Many of the allegations could not be corroborated. In some cases, no conclusion could be reached because the individuals either declined to be interviewed or provided insufficient information to the investigators. And, in other cases, the investigation found that credible accounts were given by both sides.
"The investigation found that on certain occasions Paul Marciano exercised poor judgment in his communications with models and photographers and in placing himself in situations in which plausible allegations of improper conduct could, and did, arise."
Paul Marciano has been replaced as chairman by his brother Maurice Marciano and will leave the company on 30 January 2019 when his contract expires.
Paul Marciano will also continue to receive his salary until he leaves. His salary was suspended between 20 February and 11 June during which time the allegations were investigated and presented to the board of Guess.