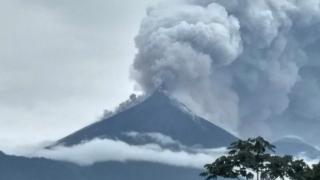 Seven people have been killed and nearly 300 injured after Guatemala's Fuego volcano erupted, officials say.
The volcano, about 40km (25 miles) south-west of the capital Guatemala City, has been spewing black smoke and ash into the sky.
People have been evacuated from several areas and the capital's La Aurora airport has closed.
President Jimmy Morales said a national emergency response was under way.
The head of the National Disaster Prevention Authority Sergio Cabañas told a local radio station that a river of lava had changed course towards a small town.
"People have been injured, burned and killed. Evacuations and searches are under way," he said, quoted by Reuters.
Mr Cabañas later said the dead included a member of his agency's staff.
A total of about a million people have been affected by the eruption, the Guatemalan government says.
Officials have advised citizens to wear masks due to falling ash, which has been raining down in four of Guatemala's administrative regions.
A disaster authority spokesman said a change in wind direction was to blame for the volcanic ash falling on parts of the capital.
The Guatemalan military said it was providing assistance including clearing volcanic ash from La Aurora airport's runway.