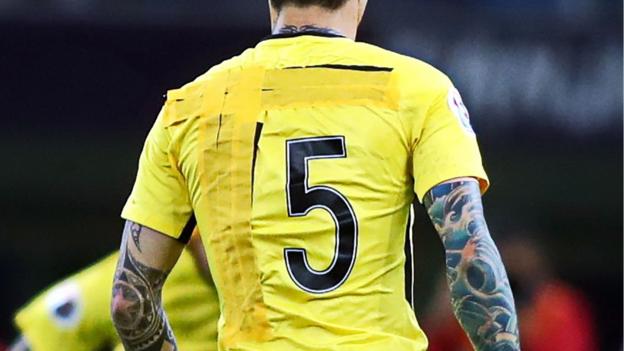 Backroom staff from the Chinese Super League's most successful team have been fined for "seriously damaging the club brand" after using tape to cover up part of a player's shirt during an Asian Champions League tie on Tuesday.
Guangzhou Evergrande defender Zhang Linpeng needed a new shirt after suffering a bloody nose during the goalless draw with domestic rivals Tianjin Quanjian.
But staff were initially unable to find a replacement for the China international's number five shirt during the first half, opting to amend the number 15 shirt of substitute Zhang Wenzhao.
They used yellow tape to block out the numeral "1" on the front and back of the shirt, leaving just the "5", and also covering the name.
Zhang Linpeng later changed into a correct shirt.
But the quick thinking did not go down well with the club's hierarchy, who handed five backroom staff – including general manager Gao Han – unspecified fines for their "lack of sense of responsibility".
"The team's kit management has made major mistakes," a club statement read.
Guangzhou, who are coached by Italian World Cup-winning defender Fabio Cannavaro, have won the Chinese Super League title for the last seven seasons.