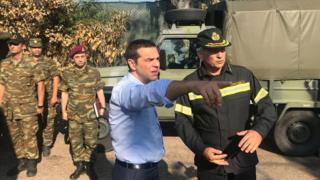 Greece will demolish thousands of illegal buildings in the wake of its deadliest wildfire, Prime Minister Alexis Tsipras said.
Authorities said unlicensed construction hindered attempts to escape the blaze in Mati last month which killed at least 91 people.
Mr Tsipras vowed to check the "chaos of unruly construction", which has been common in Greece for decades.
In the Attica region, 3,200 buildings will be torn down immediately, he said.
Such constructions, known as "afthereta" or "arbitrary" buildings, are often built without permission and later licensed in government amnesties.
The authorities said there were dozens of these buildings in Mati, which created a maze of confusing streets and blocked access to the coast.
In a speech, Mr Tsipras said this work "threatens human lives".
"Whatever represents a danger will be torn down," he said. "It is our duty to our dead, but more so towards the living."
Critics have accused the government of a slow response to the disaster in Mati.
Local authorities have been accused of directing drivers into the blaze. Dozens of people died as they tried to escape their vehicles.
Mr Tsipras issued a statement on Sunday replacing the chiefs of the police force and fire brigade with their deputies, two days after the country's civil protection minister resigned.