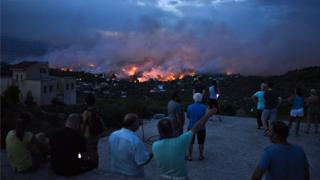 Forest fires raging across Greece have killed at least four people and injured dozens more, forcing the authorities to ask for international assistance.
Hundreds of firefighters are battling the blazes and people have left their homes near the capital, Athens.
A search and rescue operation is underway for 10 tourists who fled one of the fires in a boat, officials say.
"We will do whatever is humanly possible to control it," Prime Minister Alexis Tsipras told reporters.
He cut short an official trip to Bosnia in order to help coordinate the response to the situation, which firefighters have described as "extremely difficult".
Miltiadis Vyronas, from the country's Ekav emergency service, said that 25 people had been taken to hospital and four were seriously injured.
One witness told Reuters news agency that four bodies have been seen in Athens.
Dramatic video posted on social media showed damaged buildings, orange smoke-filled skies, and people fleeing the fires by car.
Prime Minister Tsipras said that "all emergency forces have been mobilised" and declared a state of emergency in the Attica region around Athens.
The government has asked other European countries for helicopters and additional firefighters to help tackle the fires.
Earlier on Monday, residents of a coastal region near Athens were told to abandon their homes as the uncontrolled fires spread. Hundreds of children were also evacuated from holiday camps.
The extreme weather comes as dozens of wildfires continue to rage in Sweden.
Countries including Italy, Germany, Poland and France have all sent help in the form of additional planes, vehicles and firefighters.
But with temperatures set to soar again, they are in a race against time to get the fires under control.