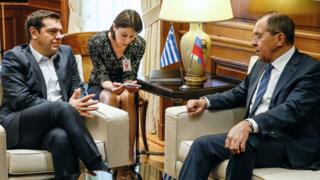 Greece has ordered the expulsion of two Russian diplomats and barred the entry of two others for allegedly undermining national security, local media report.
The Greek government has accused the Russian officials of acting to obtain and distribute sensitive information.
Russia said on Wednesday it would mirror the move by expelling two Greek diplomats, according to reports.
It marks a rare downturn in diplomatic relations between Athens and Moscow, who have shared close ties for decades.
Greece called for the immediate expulsions amid claims that a number of Russian diplomats were involved in efforts in the country to extract material that could then be used to bribe Greek state officials, the Athens daily Kathimerini reports.
One of the two diplomats to be expelled was named as Russian embassy official Victor Yakovlev, according to Kathimerini, which cites senior diplomatic sources.
The Kathimerini report contains allegations that Russia has in some way tried to intervene in sensitive issues, particularly with respect to the issue of the name of Macedonia.
Last month Macedonia and Greece agreed to end a 27-year row by renaming the ex-Yugoslav state the Republic of North Macedonia.
In response to Greece's move to expel Russian officials, a spokesman for the Russian foreign ministry told AFP news agency that "Russia will take reciprocal measures, as is usually the case in such circumstances".
Athens has been careful to protect its close relationship with Moscow and reportedly took the rare measures on Wednesday amid increasing efforts by Moscow to expand its influence in the country.
However, the diplomatic sources quoted by Kathimerini added that Greece still aimed to maintain "good co-operative relations" with Russia.
In March, Russian diplomats were expelled from more than 25 countries after EU leaders agreed that it was "highly likely" that Russia was responsible for a nerve agent attack in the UK.
However, Greece was not among them.
Greek Prime Minister Alexis Tsipras said at the time that while he wanted to "express solidarity" with the UK, "we also need to be responsible on that issue".
Former Russian spy Sergei Skripal and his daughter Yulia were discovered unconscious on a bench in the Wiltshire city of Salisbury on 4 March after reportedly being exposed to a military-grade Novichok nerve agent. Two Britons were also later poisoned by the nerve agent and one has died.
The UK government says the nerve agent used in the Skripal attack was of a type developed by Russia, but the country's authorities continue to deny any involvement.