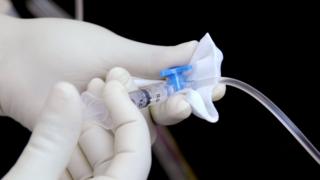 Greek police say they have broken up a criminal gang that stole cancer drugs from public hospitals and smuggled them to other European countries for resale at much higher prices.
Investigators have detained 21 people, including doctors and nurses, and say others are being sought.
Police say forged prescriptions were used to obtain the subsidised drugs.
The medication was then sold in Scandinavia, Italy, Germany and France for more than double the price.
The racket is believed to have cost the Greek state at least 25m euros (£22m; $30m), officials said.
Those arrested include a 70-year-old Egyptian man believed to be the group's ringleader, the Greek newspaper Ekathimerini reported.
Police spokesman Theodoros Chronopoulos said the gang showed "particular contempt for society".
The gang has been active since 2013, police say, and had set up a pharmacy to export the drugs, find customers and to forge receipts.
They transported the medication to warehouses in Italy from where it was distributed.
Police are also investigating whether any genuine cancer patients were affected, receiving less medication than they were prescribed.