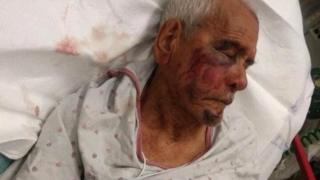 Police are looking for several suspects following a brutal 4 July attack on a 92-year-old Mexican man in his family's Los Angeles neighbourhood.
Rodolfo Rodriguez says he passed a woman on his daily walk when she began assaulting him with a brick and called on a group of men to join the attack.
He was taken to hospital with a broken cheekbone and two broken ribs.
A neighbour filmed the assault and told US media that the woman who first hit him said, "go back to your country".
"I can't walk anymore," Mr Rodriguez told CNN in an interview. "I'm in so much pain."
Mr Rodriguez, a permanent resident of the US who lives in Michoacan, Mexico, said he visits his family in California about twice a year.
He was walking to a nearby park when the attack occurred.
"I just passed her and she pushed me and she hit me until she was done," he said.
Misbel Borjas, a witness who captured the incident on her phone, told CNN the woman attacked the elderly man with her hands and then a brick or slab of concrete, shouting at him to "go back to your country, go back to Mexico".
Ms Borjas said when she tried to defend Mr Rodriguez, the woman threatened to hit her with the brick.
As Ms Borjas recorded the attack, she says a group of younger men came and began kicking Mr Rodriguez as he was on the ground.
Erik Mendoza, Mr Rodriguez's grandson, found his grandfather later that evening, bloodied and bruised on the street and unable to walk.
"I'm just overwhelmed how anybody can do this to a human being at all," Mr Mendoza told CBS News.
"He's 92 years of age. There's no harm that he meant for you to treat him the way you did."
His grandson said Mr Rodriguez does not speak much English and did not understand why he was being attacked.
Following a social media uproar over the attack, Mr Mendoza set up a GoFundMe page to raise money for grandfather's hospital expenses. Donations have already surpassed $165,000 (£124,000).
Mr Rodriguez was discharged last week and is recovering at home.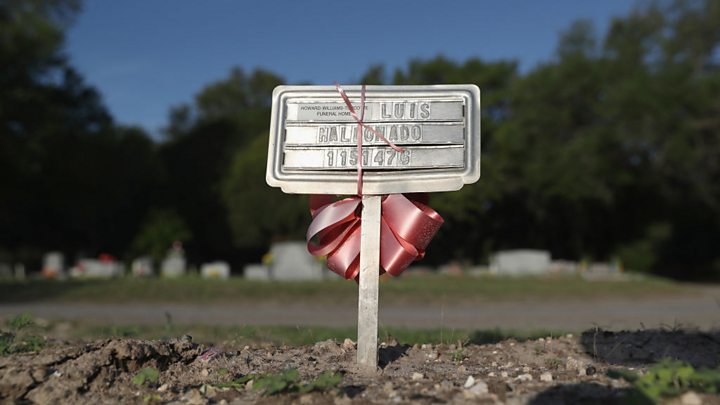 Officer Tony Im said on Monday that police have not identified any suspects.
Sheriff's deputy D'Angelo Robinson told KTLA 5 News that police "are concerned" with this crime, but have not yet determined a motive.
"There was what appears to be a 4-year-old child there who witnessed the entire thing," he said. "We can't have these kind of people like that out in the streets."
On Monday, the California Department of Justice released the state's 2017 crime reports, showing a 17% overall rise in hate crimes from 2016.
According to the report, there were 126 anti-Hispanic bias incidents last year – an increase of 51.8% from 2016.