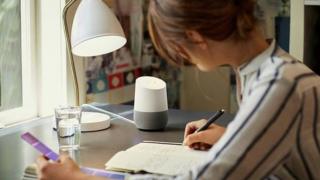 Google's internet-connected speakers are apologising for being somewhat less "smart" than normal.
The Home devices are responding to queries by saying "there was a glitch" or "sorry, something went wrong".
Users worldwide are being instructed to "try again in a few seconds", only to face a repeat of the problem.
A spokeswoman for the tech giant acknowledged the setback and said that some of the firm's TV-streaming dongles had also been affected.
"We're aware of an issue affecting some Google Home and Chromecast users. We're investigating the issue and working on a solution," she said.
The firm has yet to be more specific about the cause of the technical problem.
Social media reports indicate that there was a surge in the number of people reporting related error messages at about 09:00 BST.
In several cases, users first noticed the problem because the speakers had failed to play a wake-up alarm.
Some have already reported that affected kit has returned to normal, but many others say problems are continuing.
The malfunction comes a day after the Home speakers began handling Spanish-language queries.
Google is also in the process of rolling out Continued Conversation – a facility that keeps a Home speaker's microphone live for eight seconds after a query to permit follow-up commands, letting users avoid having to repeat a wake word.
However, it is not clear whether these updates contributed to the issue.
Google is not the only tech firm to have experienced disruption.
Users of the work-based chat service Slack were unable to log in to the service for much of the day.
However, the San Francisco-based company has indicated that the problem has been resolved.