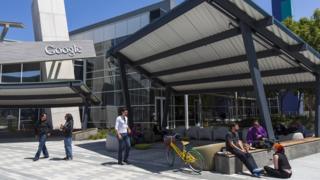 A new report from Google has revealed that little has changed despite a commitment to increasing diversity among staff employed by the tech giant.
Overall nearly 70% of Google staff were men, as has been the case since 2014.
In the US almost 90% were white or Asian, 2.5% were black and 3.6% Latin American.
The figures also showed that black and Latin American employees had the highest attrition rate in 2017 – those choosing to leave.
"….despite significant effort, and some pockets of success, we need to do more to achieve our desired diversity and inclusion outcomes," wrote Danielle Brown, diversity vice-president, in the report.
Ms Brown said the firm would increase transparency and include senior leaders in diversity-related work in order to try to drive progress.
Other figures from the report included:
Just over 25% of leaders were women in 2018, up nearly 5% since 2014.
Of the overall US staff hired in 2017, 31.2% were women, although this dropped to 24.5% for tech new recruits
In the US, just under 67% of leadership positions were held by white staff and 2% by black employees
White and Asian staff make up the vast majority of the workforce in all areas listed: tech, non-tech, leadership and overall
In non-tech roles the gender divide is the closest, with around 48% women and 52% men
Last year a former Google employee, James Damore, was fired after writing an internal memo arguing there were few women in top jobs at the firm because of biological differences between men and women.
"We need to stop assuming that gender gaps imply sexism," he wrote.
While it is the first to release figures for 2018, Google's figures are broadly in line with other big players in the tech sector, which has long struggled to broaden the diversity of its workforce.
Microsoft's diversity figures in 2017 revealed a gender divide of 81% men and 19% women in both its leadership and tech divisions.
In leadership 66.8% were white and 2.2% black or Afro-American, in tech those figures were 53% and 2.7%.
Facebook revealed that 28% of its global senior leadership staff in 2017 were women, and in the US 71% of leaders were white, 3% black.