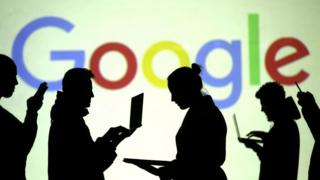 Google will ban all advertisements relating to Republic of Ireland's forthcoming referendum on abortion, which takes place on 25 May.
On Tuesday, Facebook started to block ads relating to the referendum that did not originate from advertisers inside Ireland.
However, Google said all ads relating to the vote would be blocked.
Google's ads appear on millions of websites, including its video-sharing platform YouTube.
"Following our update around election integrity efforts globally, we have decided to pause all ads related to the Irish referendum on the Eighth Amendment," the company said in a statement.
Voters will decide whether to repeal the Eighth Amendment to the Republic of Ireland's constitution, which states "the right to life of the unborn".
At present, the country has a near-total ban on abortion, with terminations very rarely allowed.
In April, Irish data protection commissioner Helen Dixon said it was possible that foreign organisations could try to sway the referendum.
Ireland's electoral laws ban foreign organisations from funding campaign groups in the country. However, social media sites and search engines are not prohibited from carrying foreign-funded advertisements.
Google said ads relating to the vote would be "paused" from 10 May.