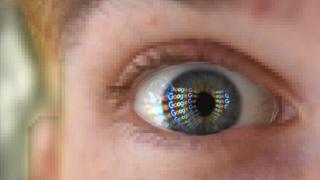 Google now handles more than three billion searches a day.
The vast majority are for complete words or phrases. But premature pushes of the enter key mean many end up being for single letters too.
Most of us simply go back and try again.
But some of those unique-character searches throw up intriguing results and serve as a snapshot of popular culture.
So, we went for a run round the alphabet to see who or what the search giant associates with each letter.
The results were sourced from queries made via an anonymous Google UK Search, ignoring ads, recent news stories and dictionary/wiki-based results.
They were carried out via a browser cleaned of cookies and other tracking data.
Your own personalised results may differ, and the ever-evolving nature of the web means some may have changed in the period between writing and publication.
Ali-A – YouTube channel
More than 14 million people follow the British video-maker's YouTube channel, in which he shows off his gaming skills.
The popularity of his Call of Duty videos led to him being awarded several Guinness World Records in 2015, but these days you're more likely to find him blasting and dancing his way through Fortnite.
B – a smart digital banking service
Clydesdale Bank's app makes the most of its compact name, beating BBC iPlayer into second place in the UK.
But the same search in much of the rest of the world yields the B Corporation's impact assessment test. The non-profit organisation measures how socially and environmentally responsible other organisations are, and awards them a certificate if they get a high enough score.
C – the programming language
This guide to the four decade-old coding language comes courtesy of the GeeksforGeeks website.
It's the place to go if you want to learn the difference between function prototypes and _Noreturn function specifiers.
D – another programming language
Wired magazine described D as the "next big programming language you've never heard of" four years ago.
It's probably safe to say most of you remain untroubled by its existence.
But a recent survey indicated that it's currently the 23rd most commonly-used type of code. And some big-name firms are listed among its users including Facebook, Netflix and eBay.
E! News
NBCUniversal's celebrity-obsessed news service trumps eBay for the top spot in the UK and most of the world.
But Google's Estonian search results are an exception.
There the country's native e-Estonia portal takes precedence, inviting locals and foreigners alike to sign up for a government-issued e-residency ID.
Facebook
Inevitably, the people-connecting and sometimes data-leaking social network tops the list.
Bearing in mind that the only countries the platform is currently banned in – China, Iran and North Korea – are also ones without a local Google Search, its dominance of the letter F is complete.
Google
It's no shock that Google claims the G title.
But perhaps what is surprising is that G-Technology – one of hard disk-maker Western Digital's brands – comes second.
That puts it ahead of Google's own G Suite of apps, including Gmail.
@halsey
The US pop star's one-letter Twitter account helped place her in this list.
The 23-year-old rose to fame via self-recorded songs and videos posted to social media ahead of the breakthrough track Closer.
Curiously, her ex-boyfriend is the rapper G-Eazy – seen on the left in the image above – whose Instagram account ranks highly for "g" in Google's US-based results.
I – music video
The YouTube promo for Kendrick Lamar's Grammy-winning song takes the vowel's top placing.
The stylish video – which features a cameo by funk pioneer George Clinton – has been viewed more than 67 million times since its 2014 debut.
J Cole – YouTube channel
The American hip hop star's contraction of his first name – Jermaine – has worked in his favour in the UK.
But elsewhere in the world, Samsung's Galaxy J phones, Japan's J1 football league and the Colombian reggaeton singer J Balvin lead the way.
K – YouTube music video
The band behind this song – Cigarettes After Sex – is known for a sub-genre of music known as "dream pop" or "shoegazing". And K's slow beat and ethereal vocals certainly deliver on that promise.
"Listening to this song while it's raining, looking out of the window towards the cold dark damp forest," reads one comment below the YouTube clip, which seems like the perfect environment to be swallowed up by its mood.
L-com cables
This North Andover, Massachusetts-based firm is one of the list's more obscure entries. But if you're in the market for data cable components it offers quite the choice.
More curious is an entry close behind: the Twitter account @L.
Its profile image of Pooh Bear is accompanied by the description: "Go Away. Please. I want to be alone."
M Restaurants
While the Gaucho chain of steak restaurants sinks into administration after over-expanding, one of its former managing directors is taking things slower with this new brand, which is currently limited to three locations.
Switching over to Google's Russian service, a search for the same letter yields Mail.ru – one of the country's biggest tech firms.
Its bare bones home page resembles that of Yahoo from yesteryear, but the firm is a powerhouse that also owns the nation's two biggest social networks: VKontakte and Classmates.
Netflix
Netflix is arguably the biggest tech success story of the past decade. But it could all have been very different.
Its former marketing chief Barry Enderwick revealed a while back that when it originally planned to move into video-streaming, the intention was to do so via its own set-top box.
"In 2007, we were so far down the path with the Netflix-branded streaming device that we were shooting promotional videos for it," he revealed.
"Then the handbrake was pulled – and hard."
Instead Netflix opted to stream its service to others' hardware, and recently temporarily overtook Disney to be the world's most valuable entertainment company.
O – Cirque du Soleil's aquatic show
The Canadian circus water-themed spectacular turns 20 later this year and remains one of Las Vegas's most popular attractions.
Cnet took a deep dive into the tech underpinning the show last year, revealing that its 75 performers are outnumbered by 122 technicians behind the scenes, most of whom are certified scuba divers.
Android P – developers page
Will it be Popsicle, Pistachio, Pancake or – and admittedly this is a long-shot – Pontefract cakes?
Google likes to keep the sweet-themed names of its new Android operating systems under wraps until their release dates. But many of the features have already been confirmed, including device-usage feedback and improved battery life.
Q Magazine
The music magazine pre-dates its movie-themed stablemate Empire by several years, but these days Q's print edition lags a long way behind in terms of circulation.
Even so, the fact it has survived more than 31 years, well into the digital age, is an achievement in itself. Melody Maker, Smash Hits, Select and NME's physical edition all folded on its watch.
Its high Google placing, however, is the result of a twist of fate. The original intention was to call the magazine Cue – as in "cue the music" – but its founders reportedly feared it would be mistaken for a snooker publication and opted for the letter instead.
The R Project for Statistical Computing
Somewhat confusingly, the R Project's programming environment is based on the earlier S computing language and can run much of its code unaltered.
In any case, it is targeted at statisticians and others involved with data analysis, who prefer to do their work by writing functions and scripts rather than clicking their way through Excel spreadsheets.
Astrid S – BBC Music
Singer-songwriter Astrid S got her break on a Norwegian TV music competition – Idol: Jakten på en superstjerne – in which she came fifth in 2013.
More recently, the 21-year-old topped her home country's singles charts with Think Before I Talk, though she's better known abroad for providing vocals to Blonde's Just For One Night.
While she can claim S for her own in the UK, in Norway she's placed much further down Google's results behind Tesla's Model S car and a video of Sia singing about the letter S on Sesame Street.
Twitter
The tweet-filled social network takes top spot for the 20th letter of the alphabet.
And for double points, the owner of its @T account is Tantek Celik – a Turkish-American computer engineer who helped develop the Macintosh version of Microsoft's Internet Explorer.
U – 'The Unbank'
"U is not a bank," its website declares, just in case there's any doubt about what being an "unbank" involves.
"You get all the benefits you'd expect from a bank," the Yorkshire-based firm then adds, before clarifying in its small print that it doesn't offer overdrafts.
Over on Google Japan, a search for the same letter brings up U-Next, which claims to be Japan's biggest on-demand video service with themed sub-sections including "flashy police action" and "women who love bad guys".
V – 1980s TV series' IMDb page
The top-ranking entry for V – courtesy of Amazon's Internet Movie Database (IMDb) – is for the original 1983 sci-fi mini-series rather than the 2009 reboot.
The story centred on lizard-like aliens attempting to take control of Earth and had been inspired by the anti-fascist novel It Can't Happen Here.
The same book has also inspired some liberal commentators to criticise the presidencies of George W Bush and Donald Trump.
W – Luxury hotels
There are now more than 50 locations in Marriott International's premium hotel brand, which targets the wealthy young.
The chain now has Africa in its sights with openings planned in Egypt and Morocco.
But it also abandoning its original Lexington Avenue spot in New York, with critics suggesting the hotel is "no longer unique or trendy" and would probably cost too much to upgrade.
Apple iPhone X
Apple's top-end smartphone is now outsold by the second-rung iPhone 8, if market analyst reports ring true.
But the handset proved a sizeable chunk of the public were willing to spend £1,000 on a phone, and made the "notch" a thing.
Now, there's just the matter of what to call the successor… the X2, XI or Y? Presumably XS might be too close to the bone.
YouTube
YouTube's chief recently revealed 1.9 billion people log in to view at least one video a month on the platform. Many of them, of course, watch a lot more.
Despite this, many of its clips have never been watched at all. You can help address that via this site, which serves up YouTube's previously unclicked content.
Z Hotels
This chain is much lower down the luxury scale than W Hotels, but it's also a lot more affordable. Just don't expect a lot of space around your bed.
In much of the rest of the world, Jay-Z's video for his song Legacy takes the top spot. Which seems like a decent pay-off with which to leave you.