One person's fortune is often another person's misfortune. And so while someone, somewhere, is having a good week, someone elsewhere is bound to be having a bad one.
Who around the world has had a week to remember? And who has had a week to forget?
Good week: Koreans in Mexico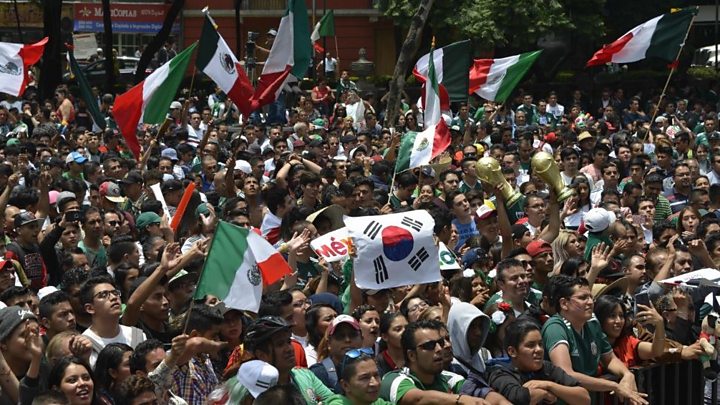 When the Korean consul to Mexico was carried through the streets of the capital on the shoulders of men on Wednesday, it looked like Mexico had just appointed a new leader. From another country.
There was a good reason for it, though: South Korea had just beaten Germany in the World Cup, a result that meant Mexico progressed from their group (they play Brazil on Monday).
Mexico actually lost 3-0 to Sweden at the same time as the South Korea-Germany match. But that result didn't matter one little bit, and it meant anybody with even the slightest link to South Korea was heralded as a hero in Mexico City.
Bad week: Germans, everywhere
The same circumstances that allowed Mexico to celebrate also ensured Germany were left down in the dumps.
No-one saw it coming. These were the world champions, the beasts that tore Brazil to pieces in their 7-1 semi-final win last time around.
The 2018 Germany team was another animal altogether, one that liked to roll over and have its belly tickled while the burglars ransacked the house.
"A historic disgrace!" "An embarrassment!" said some of the German newspapers. And those were some of the kinder reactions.
Good week: The new wave of Democrats
Tuesday night saw a massive political upset in the US, one that's shaken up the Democratic Party.
It all came about in a primary to decide who would be the party's candidate in November's mid-term elections, to represent part of New York City in Congress.
The leading candidate was political veteran Joe Crowley, 56, who had been tipped for a senior role in the party. His opponent was Alexandria Ocasio-Cortez, who is half his age and a political novice.
She came out on top and now looks likely to become the youngest woman ever elected to Congress.
"The progressive left just fired a warning shot across the bow of the Democratic Party establishment," said our man Anthony Zurcher. "Prospective 2020 Democratic presidential candidates will certainly take note."
Bad week: The world of art restoration
It's yet another example of an Iberian artist finding their creative spirit, and enjoying its taste a little bit too much. Remember this? And this?
An arts and crafts teacher was hired to freshen up a 16th-Century wooden sculpture of St George in northern Spain. It didn't go to plan.
Cultural officials have blasted the botched attempt as "frightening". It's not clear what the teacher's students think.
Good week: Herman the cleaner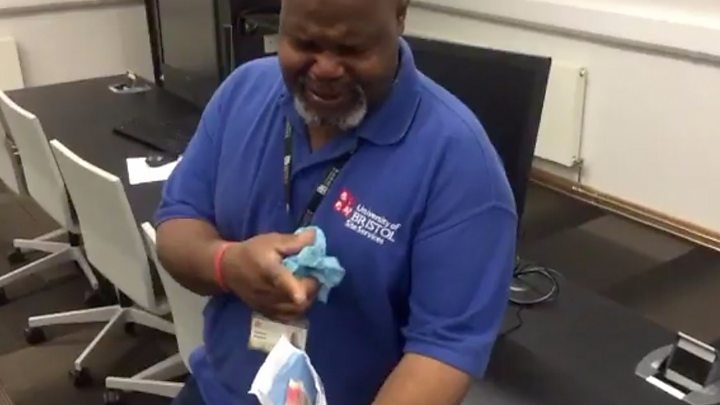 "You have brightened many of our days and we want you to know that we love and appreciate you."
That was the message that students at the University of Bristol shared with Herman Gordon, who cleans their halls of residence. Not only that, but they crowdfunded £1,500 so he could visit his family in Jamaica.
Herman is "the jolliest man I have ever met", one of the students said. He has good reason to be even jollier now.
Bad week: One Polish charity
In what is likely to be a set of circumstances never seen anywhere before, a charity in Poland has been landed with a huge phone bill.
The environmental group placed a tracker on the back of a white stork last year to track its migratory habits.
The bird travelled some 3,700 miles (6,000km), and was traced to the Blue Nile Valley in eastern Sudan before the charity lost contact.
It then emerged that somebody found the tracker in Sudan, removed the sim card and put it in their own phone, where they then racked up 20 hours' worth of phone calls.
The charity now has to pay the bill of more than 10,000 Polish zloty ($2,700; £2,064). Ouch.
Good week: Progress in Amsterdam
The Dutch capital has had mayors for the best part of 700 years. Not once has it had a woman in charge – until this week.
Femke Halsema, who belongs to the left-wing green party Groenlinks, was appointed several months after 45 prominent Amsterdam women wrote an open letter to say the next mayor should be a woman.
Bad week: The rapping priest
Father Paul Ogallo – also knows as Sweet Paul – is known for rapping during his sermons in Kenya because he wanted young people to be entertained while in church.
Sadly, his superiors didn't agree, and said he had to "choose between being a rapper and a priest". Father Paul was suspended for a year this week.