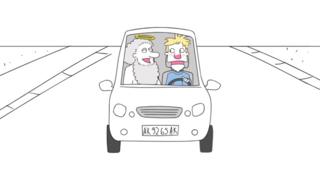 Ukraine is enlisting eminent poets of the past, not to mention God Almighty, in a determined attempt to improve its poor road safety record.
The authorities were stung by the news that 2017 saw more than 3,000 people die in a record number of traffic accidents, and launched a social-media campaign over the New Year on the "Take Control" campaign site.
This offered drivers car stickers declaring that they "stay offline at the wheel" among other virtues, but failed to make a significant online impact. So this month the police and various local authorities have geared up for the busy holiday season with a media blitz.
Lviv Region, a stronghold of Ukrainian-language culture, took the novel course of posting images on its Facebook page of classic writers Taras Shevchenko and Ivan Franko offering driving tips, while decked out in traditional embroidery.
You might also be interested in:
The Ragu.li entertainment site and its followers had fun suggesting various ways of adapting much-loved Ukrainian poetry to the requirements of the Highway Code. Entering into the spirit, Olha Berezyuk of Lviv Council promptly posted poet Lesya Ukrainka (1871-1913) assuring passers-by that she would never have set out on the road without fastening her seat belt, as Espreso TV gleefully reports.
But poets are not enough for the national police force. It has pulled out all the stops in this deeply Christian country by enlisting God Himself to keep the roads safe – albeit in the form of singer Mykhailo Khoma, the Ukrayinska Pravda news site reports.
In conjunction with the Traffic Challenge campaign group, Mr Khoma and the police are making a series of musical cartoon videos in which drunk or plain negligent drivers and motorcyclists take to the road, only for the avuncular deity to appear alongside and sing "Don't be such a clot – I'm immortal, you are not".
And, so far, no one on social media has argued with that advice.
Reporting by Martin Morgan
Next story: Summer heat kills off Finland's mosquitoes
Use #NewsfromElsewhere to stay up-to-date with our reports via Twitter.