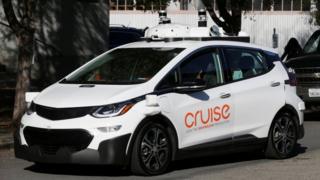 General Motors has settled a legal action brought by a motorcyclist knocked over by one of the carmaker's self-driving vehicles.
Oscar Nilsson sued soon after the collision with the GM Cruise car in December 2017.
Mr Nilsson sustained neck and shoulder injuries that needed lengthy treatment and caused him to take time off work.
GM said the settlement had resulted from a mutual desire by both parties to resolve the legal action.
Lawyers for both sides told Reuters that final details of the settlement were still being worked out but the case should be concluded by the end of June.
The car moved to change lanes in heavy traffic on a San Francisco motorway last year, according to GM's report, but then aborted its manoeuvre when traffic in the lane it was leaving started moving.
It then collided with the motorbike, which was moving into the space the car had been moving out of.
GM alleged the motorcyclist was partly at fault for the crash. And a police report did cite him for trying to pass the Cruise car. However, he was not given a ticket.
About 40 crashes involving self-driving cars have taken place in California since January 2017. Records show 33 of the cars involved were GM Cruise vehicles, but none has been found to have been responsible for any of the crashes.