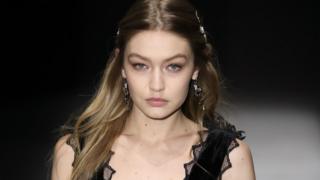 Gigi Hadid has apologised after being criticised for her heavily bronzed look on the cover of Vogue Italia.
Fans said she was "unrecognisable" and, that by darkening the model's face and body, it was an example of "blackface".
The picture, shot by photographer Steven Klein, shows a noticeably bronzed Gigi in the arms of male model Justin Martin.
In an Instagram story post shared on Thursday, the 23-year-old said the concerns raised are "valid".
Gigi shared a throwback photo of herself shortly after the Vogue shoot and wrote: "This is a photo of me returning home from my Vogue shooting on 3 April… you can see the level I have been bronzed to on set that day."
She told her followers that she had little control over the creative direction of the shoot and "anything done to a photo post [production]".
Addressing fans concerns, she added: "Please know that things would've been different if my control of the situation was different.
"Regardless, I want to apologise because my intention is never to diminish those concerns or take opportunities away from anyone else."
The fashion model had previously shared the Vogue Italia cover image with her 40 million followers on Instagram.
Some fans were quick to point out that the model looked distinctively different.
"You don't even look like yourself," one fan said.
Another commented: "Is this supposed to be Gigi? Because you photoshopped her into an entire different girl".
Some followers said it was even worse.
"Another blackface attempt failing miserably,", said one.
Another commented: "Kind of, actually really looks like blackface. What the heck."
Gigi's post showing the front cover has since been deleted.
Vogue Italia has also apologised.
It wrote on its Instagram page: "In our latest cover shoot by Steven Klein, the vision was to create a beachwear-themed story with a stylised bronzing effect.
"We understand that the result has caused some debate with our readers, and we sincerely apologise if we have caused any offence."
Follow Newsbeat on Instagram, Facebook and Twitter.
Listen to Newsbeat live at 12:45 and 17:45 every weekday on BBC Radio 1 and 1Xtra – if you miss us you can listen back here.