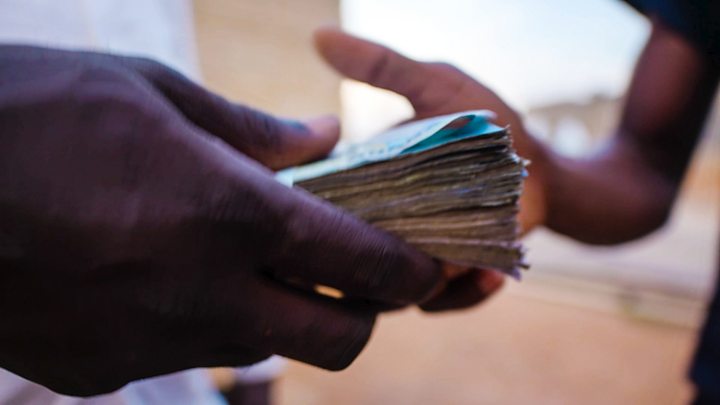 Fifa has banned the president of Ghana's Football Association (GFA) from football activities for 90 days.
Ghana has said it will dissolve its national football association after Kwesi Nyantakyi was filmed apparently accepting a "cash gift".
He was pictured taking $65,000 (£48,000) from an undercover reporter pretending to be a businessman.
Mr Nyantakyi is the second most powerful official in African football and also a member of the Fifa Council.
He has not commented on the allegations.
The provisional suspension comes into force "immediately" and can be extended by 45 days, Fifa said in a statement.
BBC African football analyst Nick Cavell says it seems unlikely that Ghana will be able to take part in Wednesday's vote for the next host of the 2026 World Cup.
Mr Nyantakyi had made tackling corruption a major part of his message since taking the helm of the GFA.
But an undercover film shows him apparently placing the $65,000 "shopping money" into a black plastic bag from a reporter pretending to be a businessman keen to invest in Ghanaian football.
Fifa rules forbids officials from receiving cash gifts.
The film's revelations have also led to Mr Nyantakyi being put under investigation for fraudulently using Ghana's President Nana Akufo-Addo's name – by order of the president himself.
The investigation, by controversial journalist Anas Aremayaw Anas, invited Mr Nyantakyi to a luxury hotel in the Middle East with the promise of meeting a wealthy businessman it said was interested in a sponsorship deal with the GFA.
In the film, Mr Nyantakyi went on to both negotiate and write up the sponsorship deal on behalf of the GFA, which could have allowed a cut to go to a company he owned.
Correspondents say that had the fictitious deal gone ahead, he could potentially have made $4.5m from the diversion of funds.