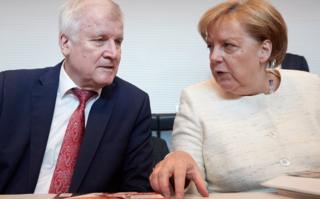 A major rift has opened up between German Chancellor Angela Merkel and her interior minister over migrant policy, threatening her coalition government.
The minister, Horst Seehofer of the Christian Social Union (CSU), wants police to have the power to turn away undocumented migrants at the border.
Mrs Merkel has held emergency talks with her Christian Democrat (CDU) MPs.
She wants a new deal at EU level over migrants. She was widely criticised for letting in about one million in 2015.
Mr Seehofer has been a long-standing critic of that open-door policy, which was summed up at the time by Mrs Merkel's phrase "we can manage".
He says German border police should turn back all asylum seekers who lack ID and those already registered in another EU country.
Mrs Merkel sees that as a "go-it-alone" policy which would further hurt Italy and Greece, countries whose capacity to house migrants is stretched to breaking point. Among them are many refugees from the Syria war and other conflict zones.
Fragility of Merkel coalition exposed
BBC Berlin correspondent Jenny Hill writes:
Angela Merkel has a mutiny on her hands. Horst Seehofer – who is in all likelihood grandstanding ahead of regional elections in Bavaria – appears to have, in the words of one commentator, got Mrs Merkel's back against the wall.
Among her own CDU MPs, though, the mood seems to be largely supportive. But she's still under pressure from her own party to strengthen migration policy and they'll expect her to find her long-promised co-ordinated EU solution.
This crisis highlights not only continuing public concern over the impact of Mrs Merkel's 2015 asylum strategy, but also the fragility of her divided coalition government.
For decades the CSU – the Bavarian sister party of the CDU – has been in alliance with Mrs Merkel's conservatives. The CSU held its own emergency talks on the migrant issue on Thursday.
There is a risk that the CSU could break away, or at least trigger a confidence vote in Mrs Merkel's leadership. In the 709-seat Bundestag (lower house) the CDU has 200 seats and the CSU 46.
The ruling coalition with the Social Democrats (SPD) has 399 seats, but without the CSU that would fall to 353 – less than a majority.
The CSU faces elections in Bavaria in October, and the far-right Alternative for Germany (AfD) poses a significant threat, with its anti-immigration rhetoric.
Since the 2015-2016 crisis the number of undocumented migrants entering the EU has fallen sharply, largely because of an EU deal with Turkey and new border fences in the Balkans.
On Wednesday Austria's right-wing chancellor, Sebastian Kurz, said after talks with Mr Seehofer that the interior ministers of Austria, Germany and Italy had formed an "axis of the willing" to combat illegal immigration.
Mr Seehofer is pushing for the creation of new "anchor centres" to hold asylum seekers until their right to stay is determined.