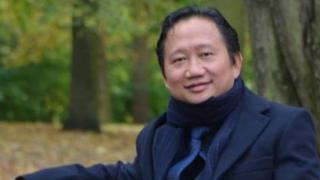 A Vietnamese man has been given almost four years in prison for taking part in the dramatic abduction of a businessman on the streets of Berlin last July.
A Berlin court ruled the 47-year-old was guilty of taking part in activity for Vietnamese intelligence and hiring a car for the plot.
Ex-oil executive Trinh Xuan Thanh, also Vietnamese, was seeking asylum in Germany when he was dragged into a van.
He then turned up in Vietnam and was jailed for life on corruption charges.
German prosecutors said the abduction was a "state-organised kidnapping" by Vietnam's secret service and that it was reminiscent of the Cold War.
The man on trial, identified only as Long NH, confessed to his role and received a reduced sentence of three years and 10 months. The court said he was not involved at the highest level of the plot.
What led to abduction?
Trinh Xuan Thanh had fled Vietnam when he was accused of racking up some $150m (£114m) in losses at state oil firm PetroVietnam Construction, as part of a state anti-corruption drive.
He had previously been in charge of the company and was a one-time Communist Party official.
Thanh sought political asylum in Germany, and Vietnam issued an international arrest warrant for him.
On 23 July 2017 he was walking in broad daylight through Berlin's Tiergarten park with a woman, when both were bundled into a car.
They were then taken to the Vietnamese embassy and spirited to Vietnam. Thanh gave a televised confession less than fortnight later, which his lawyer said had been coerced. The state said he had decided voluntarily to face the charges.
He was put on trial alongside 21 other suspects in January and given life in jail.
An embarrassment for Vietnam
To have the workings of Vietnam's intelligence exposed during a long trial in Germany has been a serious blow to the police and Communist Party.
The idea behind the kidnap operation was to send a strong message to officials viewed as corrupt.
Instead it shone a light on Vietnamese police and diplomats in Slovakia as well as Germany, and particularly on the man reputed to behind the abduction, secret police general Duong Minh Hung.
He had apparently left traces all over Berlin ahead of the kidnapping, making phone calls and sending text messages to operatives. And one of the men involved in the plot has given a full confession.
Caught on camera
At the start of his trial in April, Long NH, who also has Czech nationality, had stayed silent. But he then admitted to renting the kidnap car in Prague, bringing it to Berlin and returning it afterwards. He had also helped erase traces of the abduction, but he was caught as a witness had taken a picture of the car's number plate.
Long NH knew of the plans, the judgement said, but was not part of the command structure. He was found guilty of aiding the kidnapping and of supporting foreign intelligence activity.
The judge labelled the entire affair "a flagrant violation of German sovereignty" and the case has soured relations between Germany and Vietnam at a time when Hanoi is trying to improve relations with the EU.
How Thanh was taken to Hanoi is unclear. According to one theory, he was taken by car to Slovakia and put on a plane. Reports in Germany suggest that a Slovak government plane was used that had been on loan to a visiting Vietnamese delegation.