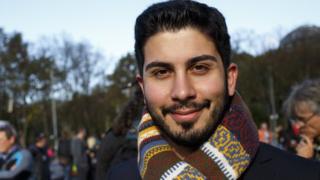 An activist who triggered a huge debate about everyday racism in Germany with the Twitter hashtag #MeTwo says the discussion was "long overdue".
Ali Can, a writer and anti-racism campaigner, was born in Turkey but grew up in Germany. Thousands of tweets have exposed the scale of racism in Germany.
He launched the #MeTwo campaign on 25 July because of the Mesut Özil furore.
German-Turkish football star Özil said "racism and disrespect" had pushed him to stop playing in the national squad.
Before the World Cup, a controversy blew up over Özil's decision to pose for photos with Turkish President Recep Tayyip Erdogan, who was visiting London while campaigning for re-election.
Özil and another German-born football star of Turkish origin, Ilkay Gündogan, drew strong criticism for what was widely seen as a political endorsement of Mr Erdogan.
The Turkish leader is accused of human rights abuses over his purge of state institutions, involving mass arrests and harassment of critics.
The criticism and hate mail targeting the two players intensified after world champions Germany were knocked out after the group matches – the nation's earliest World Cup exit since 1938.
Ali Can said Özil would have drawn much less criticism had he scored a couple of goals – it was his failure that fuelled the racism.
The #MeTwo campaign has attracted about 60,000 tweets since Can launched it.
The hashtag echoes the #MeToo social media campaign that mobilised thousands of women globally to report their experiences of sexual harassment.
What has #MeToo actually changed?
'Two hearts'
Ali Can said "MeTwo" symbolised the feeling of having two cultures – German and Turkish – "which do not contradict each other". He repeated a phrase used by Özil: "I have two hearts, one German and one Turkish".
Ali Can's parents moved to Germany when he was a toddler to escape discrimination in Turkey as they belonged to the Kurdish Alevi minority. About three million ethnic Turks live in Germany today – the largest Turkish diaspora in Europe.
He says confronting everyday racism is essential, as Germany faces a major integration challenge.
More than a million non-European migrants arrived in Germany in 2015-2016, many of them Syrian, Iraqi or Afghan refugees.
Far-right Alternative for Germany (AfD) – now the main opposition party, with 92 parliamentary seats – accuses the government of encouraging an "Islamisation" of society.
Read more on related topics:
In a tweet (in German) Ali Can thanked the many contributors for their accounts of racism in Germany. "The public debate has started… Thank you!"
He also said the flood of "courageous" tweets about racism now meant "nobody could say after this 'we knew nothing about it'."
The phrase has a strong resonance in Germany, because after World War Two many ordinary Germans claimed they knew nothing about Nazi atrocities in the concentration camps.
Ali Can told German broadcaster ZDF (in German) that he had suffered from racism when looking for a flat to rent and when he was refused entry to a nightclub, though his friends were let in. He said some clubs deliberately restricted the numbers of "southern"-looking people they let in.
A tweet from David Barnwell related a similar incident, at a Cologne nightclub.
Many tweets reveal racism in German schools – to such an extent that Ali Can called for anti-racism training for teachers.
Some of the tweets spoke of teachers assuming that darker-skinned children were not German-born, or of teachers recommending less challenging schools for pupils from ethnic minorities.
As a child, such discrimination was also suffered by Cem Özdemir, a prominent Turkish-origin German MP, belonging to the Green Party.
He tweeted that his teacher and classmates laughed at his ambition to go to a Gymnasium – the type of secondary school that prepares pupils for university. Instead he went to an ordinary, less academic highschool – the type that leads to apprenticeships, not degrees.