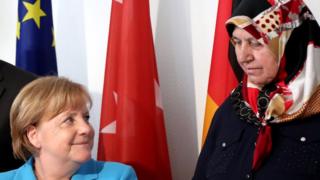 German Chancellor Angela Merkel and Turkey's foreign minister have put aside recent diplomatic tensions to mark the 25th anniversary of one of post-war Germany's worst hate crimes.
They met survivors at a memorial.
On 29 May 1993 Neo-Nazis firebombed the home of a Turkish-German family in Solingen, killing two women and three girls, and injuring 14 others.
Bilateral ties have been in crisis over differences on human rights and a German ban on Turkish poll campaigning.
The German Foreign Ministry banned Turkish politicians from campaigning in the country ahead of the 24 June election, citing a rule excluding non-EU dignitaries from campaign events in Germany without federal approval.
Also, since Turkey's failed 2016 coup, Germany has complained about a crackdown on opposition there, while Turkey has accused its Nato partners in Europe of harbouring coup plotters.
Mrs Merkel said her country had a special responsibility to fight against racism and xenophobia, particularly in light of its Nazi past.
She also thanked surviving family matriarch Mevlude Genc, 75, for responding to an "inhumane act" with "great humanity".
Mrs Genc lost two daughters, a niece, and two granddaughters, but urged reconciliation after the attack, saying "hate must be stopped".
She said: "I do not want revenge and I bear no hatred, except for the four persons who turned my family home into the grave of my children."
Four men, then aged 16 to 23 and from a German far-right skinhead subculture in the early 90s, were convicted for the deadly blaze. They received maximum jail sentences of 10 to 15 years, which have all now been served.
At the memorial ceremony, German Foreign Minister Heiko Maas called for "tolerance, diversity and humanity within our country and in the world", according to German media.
"I want to tell you: you are not only welcome here, you are part of our country," Mr Maas said, addressing Germany's three-million strong ethnic Turkish community, the largest group of Turks abroad.
Turkish Foreign Minister Mevlüt Cavusoglu said both politicians and journalists "have a responsibility not to spread discrimination", and listed other murders in Germany and elsewhere in Europe since the Solingen blaze – saying the attack "wasn't the first and won't be the last".
Germany has struggled with a new upsurge of racist attacks and right-wing activism, including the entry of far-right party Alternative for Germany (AfD) into parliament, after an influx of more than one million asylum seekers since 2015.