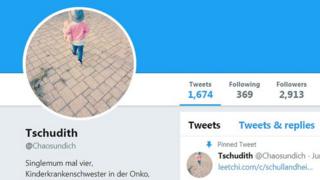 A struggling German single mum with four children tweeted that she could not afford to pay for their school trips – and a tidal wave of sympathy has now brought her more than €14,000 (£12,349; $16,517).
"I'm crying because of the many lovely words!" she tweeted on Sunday, thanking thousands of people for their support.
The divorced mother, with the Twitter handle Tschudith@Chaosundich, had asked for €750 to fund the trips.
She is a 35-year-old paediatric nurse.
Her original tweet, which set the snowball rolling, did not launch any crowdfunding site – but among the many responses were tweets suggesting that she do so.
She has not given her full name, nor mentioned where in Germany she lives.
Three of her children, she explained, needed hundreds of euros for school trips. One class is going sailing, another trip is to the Alps and there are additional childcare fees during the summer break.
"When is the right time to tell them that they'll probably have to stay at home? I feel like crying," she tweeted on Friday evening. The money and sympathy poured in over the weekend.
In a message to Spiegel news's Bento features team (in German) she said she had taken to Twitter simply out of frustration, not as a plea for financial support.
She now has nearly 3,000 Twitter followers.
On her leetchi.com crowdfunding site, Tschudith describes her hardship in bringing up four children with little support from her ex-partner.
She says she has a "hypersensitive, emotional, impulsive" little boy, whose character cannot be changed, but "he will soon grow up – and understand".
The kindergarten, she says, "is cutting my childcare hours". "My hours! Bringing them up alone! This has cost me my extra job."
"The last time the kids' father picked them up was Easter. And only once before that. Never overnight, nor when I'm working. He pays only minimum maintenance."
Her message on leetchi.com begins however with an expression of happiness and gratitude.
"Oh, I'm fantastically overwhelmed. By the willingness to help. By the support. I'm touched by this – very much so."
You might also like:
Among the many supportive tweets for Tschudith was Charlotte Obermeier's: "The internet is terrific. But: it's a disgrace that a single mum, a paediatric nurse, doesn't get paid enough to afford school trips."
Another new follower on Twitter told Tschudith that donations of less than €20,000 in total were tax-free, though her unexpected windfall would still have to be declared to the authorities.
A Twitter user called EngelchenFLIEGT expressed her own delight at the compassion for Tschudith.
"The crazy thing about this is that I contributed a few euros that I don't need. But all day long I can feel joy that so many people are contributing, so much has been collected and this is helping you. I've donated more money before with less effect. So lovely!"