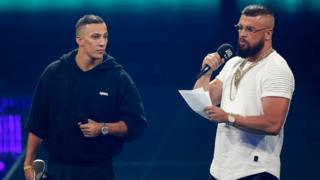 Two rappers whose lyrics about the Holocaust provoked an outcry in Germany have accepted an invitation to visit the death camp, reports say.
Farid Bang and Kollegah are set to make the trip to Auschwitz in June, although the date has not been confirmed.
The duo were awarded Germany's most prestigious music prize last month despite complaints about their lyrics.
Prosecutors have opened an investigation into allegations of hate speech by the German rappers.
The controversy surrounding Farid Bang and Kollegah centres on two lines in their latest album JBG3 (Young, brutal, good looking 3).
One track includes the words: "My body is more defined than those of Auschwitz inmates."
Another has the lyric: "I'm doing another Holocaust, coming with the Molotov."
The decision by Germany's music industry (BVMI) to hand the rappers the Echo prize in the hip-hop/urban category led to immediate condemnation from artists across the country.
The response prompted the industry to scrap the Echo awards completely as a damaged brand.
One of the most prominent critics of the award was rock singer Marius Müller-Westernhagen, who said he would be handing back the seven Echos he had won since the 1990s.
He suggested at the weekend that the two rappers should pay a visit to the memorial at Auschwitz-Birkenau. "It's not just a matter of two young rappers who said something stupid and are now quite rightly getting clobbered for it," he said. "The problem is the brutalisation of society as a whole, and that's what needs to be talked about."
The idea of a visit was taken up by the International Auschwitz Committee, whose vice-president, Christoph Heubner, told Die Zeit website the visit should not be a "showbiz event or show, but rather a confrontation with reality and the history of this place".
The memorial in southern Poland includes the site of the barracks, gas chambers and other buildings at the Auschwitz and Birkenau concentration camps, where an estimated 1.1 million people were murdered by the Nazis during the German occupation in World War Two. Most of those killed were European Jews.
Public prosecutors in Düsseldorf said on Wednesday they were opening an investigation into alleged incitement against the two rappers.