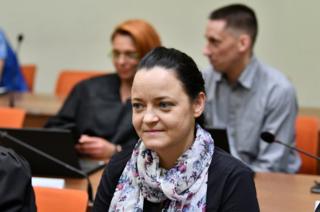 A Munich court is poised to deliver its verdict on a neo-Nazi terror cell accused of 10 murders – one of modern Germany's biggest criminal cases.
The case exposed serious shortcomings in the German state's monitoring of neo-Nazis.
The main defendant is Beate Zschäpe, accused of complicity in the murders, which took place across several regions from 2000 to 2007.
She shared a flat with two men, who died in an apparent suicide pact in 2011 after a botched robbery. The bodies of Uwe Mundlos and Uwe Böhnhardt were found in a burnt-out caravan.
What are the allegations?
According to prosecutors, Mundlos and Böhnhardt shot eight ethnic Turks, a Greek citizen and a policewoman in execution-style killings.
The killers lived with Ms Zschäpe in Zwickau, eastern Germany, and formed a clandestine National Socialist Underground (NSU) cell, bent on destabilising the country through racist terror, the prosecutors say.
The marathon trial in the "NSU case" began in 2013. Ms Zschäpe, 43, said nothing in court – not even giving her name – until 2015, when she described her relationships with Mundlos and Böhnhardt.
They were part of the neo-Nazi skinhead scene that flourished in eastern Germany after the communist regime there fell in 1989.
Ms Zschäpe denied involvement in the killings and apologised to the victims' families for failing to stop what had happened.
Federal prosecutors have urged life imprisonment for Ms Zschäpe, calling her an "ice-cold, calculating" accomplice to murder, ideologically motivated and an important figure in the NSU's operations. They believe she gave logistical help to them.
She gave herself up after setting fire to the Zwickau apartment in 2011.
Police found evidence of the trio's neo-Nazi activities in the burnt-out apartment, including a professionally-made DVD about their racist killing spree.
The confession video, featuring the Pink Panther cartoon character, mocked the victims and police, and included TV news clips about the murders.
Who are the other defendants?
Prosecutors want long prison sentences for four other defendants. For legal reasons not all of their names are given by German media. They are:
Ralf Wohlleben, a former official of the far-right National Democratic Party (NPD), accused of procuring the Ceska pistol with silencer used in nine murders. A different weapon was used to kill the policewoman
Carsten S now has a new name and state witness protection, German public broadcaster ARD says (in German). Long active in the neo-Nazi scene, he is believed to have been a key contact for the Zwickau cell during their secret life, and is accused of having handed them the Ceska pistol and silencer
Holger G is accused of having given his birth certificate and other ID to Uwe Mundlos, to protect him from the police. Holger G described his help as simply a favour for friends
André E and his wife Susann allegedly visited the Zwickau trio often, sometimes with their children, helping to give the neo-Nazis an air of normality. Susann is the subject of a separate investigation. It is alleged the couple also gave the cell their own ID documents
Read more on this topic:
What makes this such a big case?
In post-war Germany, in terms of social and political impact, the case ranks alongside the trials of Auschwitz death camp guards and Baader-Meinhof left-wing militants.
Germans were shocked by evidence that the Zwickau cell had committed grave crimes for 11 years, yet police in different regions had failed to see a pattern.
The NSU case covers 10 murders, two bomb attacks in Cologne and 15 bank robberies.
The intelligence failures triggered a major parliamentary inquiry.
MPs said Germany's police and justice officials must exchange intelligence on neo-Nazis, improve training and recruit more ethnic minorities.
Police long suspected that the killers were ethnic Turks in the victims' communities. Neo-Nazi terror was overlooked, or perhaps deliberately ignored.
Clemens Binninger, a policeman who chaired the Bundestag parliamentary inquiry, says the trial has left many questions unanswered – and victims' relatives have said the same.
Suspicions surround the use of informants, paid by state intelligence agents to monitor the neo-Nazi scene.
There are also suspicions that more extremists were connected to the murders. Some DNA found at the murder scenes remains unidentified.