By Sherie Ryder, BBC UGC and Social News and Maka Dzneladze, BBC Monitoring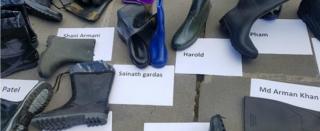 The appearance of boots outside the prime minister of Georgia's office has caused a stir on social media. So what is the significance of the display?
The clue is in the name; boot and bot are written the same way in the Georgian language.
National media has reported that a post by Prime Minister Giorgi Kvirikashvili on Facebook – regarding non-governmental organisations (NGOs) and the nation's justice minister – has received thousands of likes, many from people with non-Georgian names, leading to the suspicion such support is the work of online bots.
In reprisal, people have been leaving boots alongside the names of accounts believed to be bots outside the prime minister's office.
Of the approximate 7,300 reactions on Kvirikashvili's post, 49 were 'angry,' and Netgazeti news website quoted a protester claiming the bots were "instruments of shameful government propaganda".
Sharing pictures of the boots protest, the NGO Transparency International Georgia tweeted that the PM's use of such automated support was to discredit specific groups.
However, considering the prime minster has more than 60,000 followers on his official Twitter account and 213,000 on his Facebook page, it is feasible the support is genuine.
Broadcasting organisation, Radio Liberty, noted the PM's office has denied the use of bots.
Meanwhile, Radio Liberty's own video explaining why the boots have appeared outside has been viewed 17,000 times.
And Natia Kapanadze, head of the publicly-funded news channel Ajara TV, remarked that rubber boots are generally "uncool," especially online.
You might also like:
However, not everyone agrees bots were involved, saying anyone can share their views.
As one response to Kvirikashvili's post read: "Everyone, regardless of their nationality and skin colour, has the right to express their views and support the PM. Anybody who doesn't like it or is unhappy about it can just chill out"