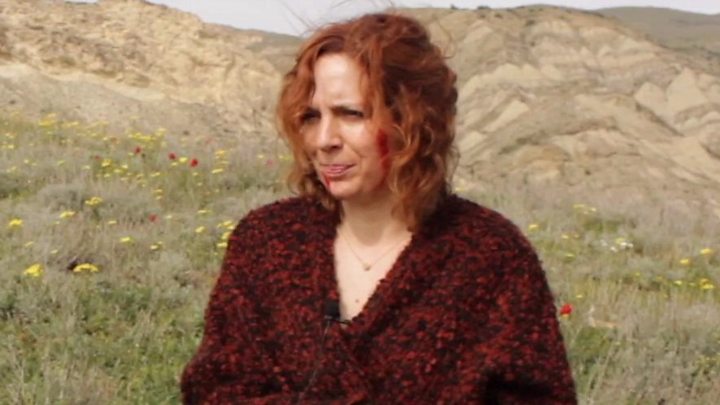 Once famous as a powerhouse of Soviet films, the Black Sea country of Georgia is working hard to promote itself in the lucrative world of international film locations.
Girls of the Sun (Les Filles du Soleil) by Eva Husson, a French drama about female fighters in Kurdistan, is in competition at the 2018 Cannes Festival and is helping elevate Georgia's reputation as an up-and-coming film destination.
The Black Sea country, famed for its mountains and beaches, has been actively courting foreign film makers to use Georgia as a backdrop in movies and commercials.
Girls of the Sun may be the highest profile film made in Georgia to date. Other prominent filmmakers have also been attracted by exotic locales in the country, as well as the government's incentives.
While the country still lags behind Croatia and other Eastern European film locations, its proximity to major EU cities, comparatively low prices, and bounty of filming locations are drawing directors from around the world.
For instance, Michel Hazanavicius, director of the Oscar-winning The Artist, opted to film in Georgia when shooting The Search in 2014.
In addition to Western film makers, several Bollywood films and music videos have been shot in Georgia in recent years. Prominent Iranian director Mohsen Makhmalbaf shot an entire feature film in Georgia in 2014.
Why Georgia?
One of the most recent films to have been shot there is How to Sell a War, starring Katherine Parkinson and Lily Newmark.
Directed by Rudolph Herzog, it's a comedy about fake news, where a PR consultant (Parkinson) has to invent a war so that a global charity concert can go ahead.
Filming for the Irish-Georgian co-production has been taking place in Georgia in April and May.
How to Sell a War producer Sam Taylor, who has now worked on four films partly or completely filmed in Georgia, says that, initially, filming in Georgia was a pragmatic move.
"When I first came to shoot here in 2015 the decision was purely hard-nosed. It is cost effective, a safe country and production values are high. Anyone looking to film a multi-location story – or a costume drama – will be offered a vast array of locations within a short travelling distance from Tbilisi."
The sheer variety of backdrops – from snow-capped mountains and black sandy beaches to Soviet-era brutalist architecture and ancient ruins – are one of Georgia's biggest selling points, in addition to tax breaks and low prices.
State-run Film in Georgia offers a 20 per cent rebate to qualified filmmakers for the expenses incurred in Georgia.
"Georgia is the cheapest filming location in Europe. Absolutely all public locations are free of charge, but we also help producers to get discounts in the locations which are not," says Tatia Bidzinashvili, Film in Georgia programme manager.
"The work force is cheap, compared to European prices," she adds.
The Georgian government is also a member of Eurimages, the Council of Europe fund that supports European films.
'Gender equality'
Sam Taylor notes that Georgia offers filmmakers a lot more than just low prices and picturesque locations.
"Perhaps the reason we love working here is that unlike many film-making industries in other parts of the world, around 50% of the film directors in Georgia are women," she says.
"If you compare this to the UK, or German or the USA (approximately 4% of directors are women), you can see that Georgia is far advanced in terms of gender equality."
Taylor says, however, that some challenges still exist. For instance, the Georgian film industry still lacks some of the skill sets that are commonly used in Europe and elsewhere.
"A script supervisor is virtually unknown on a native Georgian set – and the skill base in certain departments needs attention – but it's an exciting time for Georgian film-makers and that transmits to the crew we bring in from abroad. They love the energy and enthusiasm, we end up forcing them to go home."
BBC Monitoring reports and analyses news from TV, radio, web and print media around the world. You can follow BBC Monitoring on Twitter and Facebook.
---
Follow us on Facebook, on Twitter @BBCNewsEnts, or on Instagram at bbcnewsents. If you have a story suggestion email entertainment.news@bbc.co.uk.