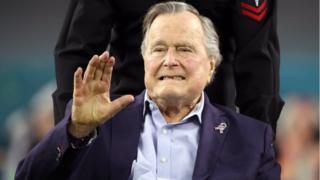 Former US President George H W Bush has been discharged from hospital 12 days after being admitted for a blood infection.
His spokesman Jim McGrath tweeted that "his doctors report he is doing well and is happy to return home".
Mr Bush, 93, was admitted to Houston Methodist Hospital in Texas a few days after the death of his wife Barbara.
He was president from 1989-93 and his son, George W Bush, went on to serve in the same role.
Mr Bush was admitted to the same hospital about a year ago for a cough that was later found to be mild pneumonia.
Who is George H W Bush?
Mr Bush became the 41st US president after serving eight years as vice-president to Ronald Reagan.
His term in office was defined by foreign policy, coming at a time when communism was collapsing in Eastern Europe.
Mr Bush built a successful international coalition to end Saddam Hussein's occupation of Kuwait in the first Iraq War.
But despite achieving popularity ratings of 90%, he was accused of neglecting domestic affairs and was defeated by Bill Clinton in the 1992 presidential election.