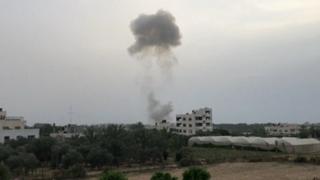 Six Palestinians have been killed and others wounded in an explosion in the Gaza Strip, health officials say.
It is not clear what caused the blast in Deir al-Balah.
The Izzedine al-Qassam Brigades, military wing of the Hamas militant group, blamed Israel, but the Israeli military said it was not involved.
A Palestinian source quoted by the Israeli newspaper Haaretz said that the victims appeared to be members of Hamas.
The explosion could have been caused by the handling of explosives inside a building, the source added.
Tensions in the region are high, with clashes between Palestinians and the Israeli military taking place along the Gaza-Israel border since demonstrations erupted more than a month ago.
Israel says Hamas, the militant group which dominates Gaza, is orchestrating the demonstrations in order to launch attacks.
On Saturday, Israel accused Hamas of setting fire to gas supplies and damaging crossing points where humanitarian supplies are brought into Gaza.
Following Saturday's explosion, TV images showed a pillar of smoke rising near the coast.
"The IDF (Israel Defence Force) is not involved in this incident in any way," an Israeli military spokesman said.
Correspondents say explosions in Gaza in the past have been caused by Israeli air strikes, by feuding between Palestinian factions or by the mishandling of explosives by militant groups.