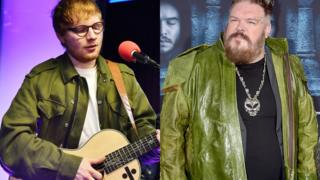 Actor Kristian Nairn, who played monosyllabic servant Hodor in Game Of Thrones, says having famous people appear on the show is "stupid".
During seven series of the show (so far), several musicians and bands have appeared on screen.
Kristian believes having modern celebrities breaks the magic of the show for viewers.
"I'm not a fan of the cameos in Game Of Thrones," Kristian told Huffington Post.
"I don't like them. I think it's stupid. I don't mind going on the record on that. I just think it takes you right out of the world."
Sigur Ros, Coldplay drummer Will Champion, Gary Lightbody from Snow Patrol and Icelandic band Of Monsters & Men are among big names who have appeared in the show.
But as the most famous person to appear on the show, it was Ed Sheeran that Kristian singled out as the most unrealistic cameo during his time on the show.
"I was like: 'Why is Ed Sheeran here?' I mean, Ed Sheeran's great. He's a great guy, great musician, but why is he in Game Of Thrones?"
"It's a fantasy show. We're all caught in this amazing world and spend so much time and money and talent to create, and all of a sudden there's a pop star? What?"
Ed had a short cameo on the show in 2017 as a Lannister soldier in a brief scene with Maisie Williams.
He performed a song called Hands Of Gold during his appearance, which was taken from George R. R. Martin's original books.
In an interview about his scene, Ed revealed he assumed his character would be killed on the show.
Ed's appearance wasn't well received by viewers of the show and he deleted his Twitter account shortly after his cameo was broadcast, following widespread criticism.
Follow Newsbeat on Instagram, Facebook and Twitter.
Listen to Newsbeat live at 12:45 and 17:45 every weekday on BBC Radio 1 and 1Xtra – if you miss us you can listen back here.