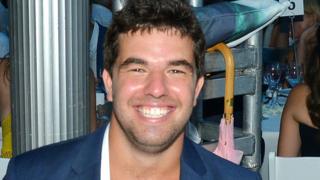 The founder of the ill-fated Fyre Festival – called a "complete disaster" by fans – has been jailed for six years by a US judge.
Billy McFarland, 26, pleaded guilty to fraud earlier this year.
A judge on Thursday described him as "a serial fraudster" who had been dishonest for "most of his life".
Partygoers were promised a luxury event in the Bahamas but instead were stranded on an island without enough food, water or accommodation.
The event in April 2017 was eventually cancelled and hundreds of people evacuated.
Tickets had cost between $1,200 and $100,000 (£900 and £75,000).
"Today, McFarland found out the hard way that empty promises don't lead to jet-setting, champagne and extravagant parties – they lead to federal prison," said US Attorney for Manhattan, Geoffrey Berman.
Addressing the court on Thursday, McFarland said he knew he had "betrayed the trust of my investors, my customers, my family".
He said the sentencing was an "extremely bitter reality".
McFarland pleaded guilty in March to two counts of wire fraud related to the festival, but then in July admitted two more counts of fraud relating to another ticket-selling scam that he had set up while on bail.
In October, prosecutors requested that McFarland serve between 11 and 14 years in prison, describing him as "the consummate con artist".
Sentencing on Thursday, Judge Naomi Reice Buchwald said McFarland was "unique in this court's memory".
"The defendant is a serial fraudster and to date his fraud, like a circle, has no end," she told the court in Manhattan. "Mr McFarland has been dishonest most of his life."
Fyre Festival was billed as a "cultural moment created from a blend of music, art and food" in the Bahamas.
Tickets included a flight from Miami; a stay in a "geodesic dome" and activities including yoga and kayaking.
It had initially been advertised with an Instagram video featuring famous models sailing on a luxury yacht and top music acts such as Blink-182 were on the bill.
But festival-goers posted videos and photos online of the "mass chaos" and "a compete disaster".
The rapper Ja Rule, who was originally described as a co-organiser of the event, was not arrested or charged in connection with the fraud.
His lawyers have since argued that McFarland used the artist's name and connections to promote the event.