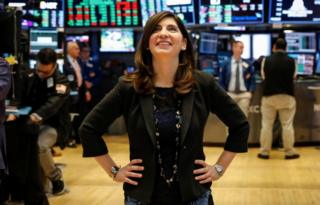 It's been a big week in the US for history-making women.
From the CIA to the NBA, the buzz is all about female leaders. Here are four developments you might have missed…
New York Stock Exchange has a new (female) boss
On Friday, Stacey Cunningham will take over as leader of the New York Stock Exchange. She's the first woman to hold the job in its 226-year history.
Ms Cunningham, 43, was already chief operating officer at the exchange, so she brings a wealth (pun intended) of experience.
In an interview last year with the Financial Times newspaper she said she first "fell in love" with the trading floor during a summer internship while studying engineering at university.
Intriguingly, she took a mid-career break to do a nine-month stint at culinary school, briefly working in a restaurant on New York's Upper West Side.
She says the two professions have much in common, noting wryly: "Things that would not be OK in really any other place tend to be OK on the trading floor and in the restaurant kitchen."
Asked if she considered the impact of being a woman on Wall Street, she told the FT: "I never acted as though there was a question as to whether or not I should be where I was."
Why? She credits Muriel Siebert, the first woman to own a seat on the New York Stock Exchange – which meant she could trade on the floor.
"If she hadn't done that, if she hadn't said, 'I'm not allowed to be there, but I am going to just go do it anyway', I never would have been able to walk on the trading floor without thinking about it," she said. "And I never gave it a thought."
Meet the first black woman nominated for governor
Another Stacey – Stacey Abrams – made headlines on Tuesday as the first black woman to be nominated as a state governor.
Ms Abrams, a Democrat, will now face a Republican candidate in Georgia's high-stakes mid-term vote in November.
If she wins, the 44-year-old would be the first woman and the first person from an ethnic minority to lead the southern state.
Aside from the cultural context, she's an interesting character. Raised in Gulfport, Mississippi, she came from a family of six children, and was the first African American girl to be valedictorian (for non-US readers, that's the person with the best grades) at her high school. Both her parents are Methodist ministers.
She has a law degree from Yale University, and wrote her first book during her third year at law school. The fun part? It's a spy love story called Rules of Engagement, and she's written eight "romantic suspense novels" under the pen name Selena Montgomery.
In the political sphere, she was first elected to the Georgia state House of Representatives in 2006, and was the first woman to lead either party in the Georgia General Assembly.
Ms Abrams thanked her supporters on Twitter after news of her nomination broke, writing, "#TeamAbrams just won our primary election, and this victory belongs to you."
America's spy agency is now run by this woman
Gina Haspel's confirmation as the CIA's first female director wasn't without controversy. The US Senate approved the 61-year-old's appointment despite her role in the spy agency's post-9/11 interrogation programme.
Ms Haspel, who is a 33-year veteran of the CIA and was already its acting director, spent most of her career as an undercover operative. However, she also oversaw a so-called black site in Thailand after the 11 September 2001 attacks.
President Trump gave Ms Haspel his vocal backing when she offered to withdraw as his nominee for the top job, following criticism.
The director has promised "clearly and without reservation" that the CIA won't restart harsh interrogation techniques under her command.
Supporters praise her credentials, which include surviving a coup d'état and substantial knowledge of Russian.
What else do we know? She's from Kentucky, and is said to be such a big fan of country singer Johnny Cash that she has a (5ft) poster of him in her CIA office.
At her swearing-in on Monday, Ms Haspel said she took "tremendous pride" in being the first woman to serve as director.
"I stand on the shoulders of heroines who never sought public acclaim but served as inspirations to the generations that came after them," she said.
…Is the NBA up for a shot of woman power?
A speculative one, this – but there's every reason to think it could happen.
US media report that Becky Hammon, an assistant coach for the San Antonio Spurs basketball team, is on the verge of making sports history as the first woman to be head coach of a National Basketball Association (NBA) team.
More than that, she'd be the first full-time female head coach of ANY major sports team in the US.
Ms Hammon, who is 41 and a former professional basketball player, is already the NBA's first female assistant coach – and the first woman to interview for a head coaching job in the league.
She reportedly missed out on leading the Milwaukee Bucks this week, but the Detroit Pistons are also seeking a coach and her name is in the ring.
How would the male-dominated NBA handle having a woman at the top table? Veteran player Pau Gasol said competence is the key for them, not gender.
"I'm telling you: Becky Hammon can coach," Gasol wrote in an open letter for The Players' Tribune. "I'm not saying she can coach pretty well. I'm not saying she can coach enough to get by. I'm not saying she can coach almost at the level of the NBA's male coaches. I'm saying: Becky Hammon can coach NBA basketball. Period."
In short, it's a question of when she's made a head coach, not if – and the week ahead could prove decisive.
Next target: the White House?
It's been an encouraging week for believers in meritocratic gender equality. But it goes without saying that the US has a substantial way to go. We're yet to see a female president, vice-president, or chief justice of the United States.
Progress is slow, but in some areas there are signs the tide is turning.
Data for 2017 from the World Economic Forum puts the US behind 48 countries when it comes to closing the gender gap. That's four places lower than in 2016 – largely because it ranked poorly on the ratio of women in public office.
Can it stop the slide? Time will tell, but at least this week's appointments will help.