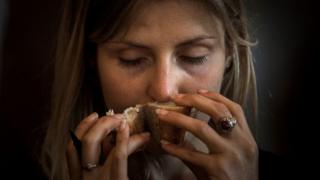 A French-Tunisian baker, who has won the right to supply the French presidential palace with baguettes for a year, says kneading is the secret behind his prize-winning loaves.
"A lot of people go too quickly with the kneading," Mahmoud M'seddi told the BBC.
He is the latest winner of the annual best baguette in Paris competition.
Mr M'seddi makes his first visit to the Elysée Palace on Friday and will now start hand-delivering his baguettes.
He is the fourth North African in the last six years to win the award.
But Mr M'seddi said this was either coincidence, or maybe because a lot of the traditional bakeries in the Paris region are owned by North Africans.
He hopes to bump into French President Emmanuel Macron during his daily deliveries.
"I'd like to meet the president – maybe we can take a photo together," he told the BBC's Newsday programme.
He says he gets up early to ensure his loaves are properly fermented, which he believes is a vital part of the process of making baguettes. "A lot of people don't leave the time for the dough to ferment," he said.
"You have to give it the time, so the fermentation happens naturally. I either get up really early, or sometimes I leave it overnight."
The 27-year-old will also receive a cash prize of nearly £5,000 from Paris Mayor Anne Hidalgo during a bread festival in May.
"I'm really very, very proud. It's massive to be the best, especially as I'm the youngest to win this prize."
A jury of 15 members, which included last year's winner Sami Bouattour, tasted a total of 138 baguettes over the course of four hours to find a winner, the Parisian reports.
He said he had been preparing for the prize for a year and all his efforts had now paid off.
"I'll never forget this year," he said.