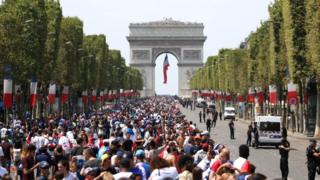 France's victorious World Cup team is to receive the country's highest accolade, the Légion d'Honneur, the French presidency has announced.
France defeated Croatia 4-2 in the football final in Moscow on Sunday – its second World Cup win in 20 years.
Crowds of fans lined the Champs-Elysées in central Paris to give the team a heroes' welcome.
The players will be honoured with a parade on the capital's main artery and a presidential reception.
The World Cup winners, who have now landed back in Paris, will take an open-top bus along the avenue later on Monday.
Captain Hugo Lloris and coach Didier Deschamps were the first to emerge from the plane, raising the competition's golden trophy to the cheering crowds of fans who gathered to greet them.
Fans partied across France overnight, but celebrations in some cities were marred by violence. Police fired tear gas as sporadic clashes broke out in Paris, Lyon, Strasbourg and Rouen.
Dozens of youths broke into a shop on the Champs-Elysées and stole wine and champagne.
But the national mood was one of joy, and Paris transport company RATP said it was celebrating the success of Les Bleus by renaming some stations after the victors.
They include Victor Hugo Lloris, after the team's captain and goalkeeper, and Deschamps-Elysées, in honour of the coach.