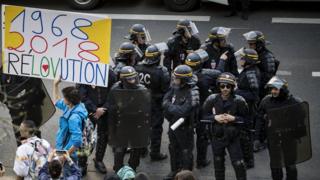 In France, protest is theatre. And as the half-centenary of May 1968 approaches, it looks like the props are out, the stage-set is getting the final touches, and the actors are once again learning their lines.
The few last weeks have permitted certain souls to imagine that President Emmanuel Macron's France is entering a zone of high dramatic turbulence, comparable even with the events of 50 years ago, when student and worker protests changed the country for good.
In the universities of Nanterre and Paris – starting-point for the ructions of '68 – once again there are sit-ins, slogans and fights with police.
Railway workers provide the industrial muscle that Renault car-workers gave 50 years ago, with three months of strikes against Macron's liberalisation of the state railway.
And in a corner of the rural west, eco-warriors act out their battles with forces of the state, who want to evict them from the site of a now-abandoned airport.
No doubt all these movements, and others by hospital workers, Air France pilots, justice officials, etc would have gone ahead anyway.
But the '68 anniversary has given them a historical oomph, rekindling the ideal of the great coming-together, the convergence des luttes (coalescence of struggles), that motivated protests back in the day.
As one of the myriad banners put it in a Paris campus this week: "The train due for May 1968 has arrived… with a delay of 50 years."
What was May 1968 all about?
It began with a student occupation of Nanterre University in Paris. When the campus was shut down the protest moved to Sorbonne University, in the heart of Paris.
Thousands of leftist students demanded reform of the "bourgeois" university system and an end to President Charles de Gaulle's "police state". France was gripped by a cultural upheaval – a youth rebellion against what was seen as an authoritarian establishment.
There were days of running battles in central Paris between students – hurling cobble stones – and baton-wielding CRS riot police, who fired tear gas. Hundreds were injured and nearly 500 students arrested.
Trade unions joined the protests, organising strikes across industry and transport, in a push for better working conditions.
The strikes spread across France until around 10 million workers paralysed the nation. Some feared that a communist revolution was looming.
De Gaulle managed to defuse the crisis by dissolving parliament, threatening a state of emergency and calling a snap June election. His supporters rallied in Paris and his conservative party triumphed in the election.
Different interpretations
Now, as today's heated debates in the media go to show, opinions vary hugely in France about whether May '68 was a good or bad thing.
For some, it was a moment of liberation from the repressive hypocrisy of the war generation.
If it erred into utopian leftist ideology, well that was just part of the French tradition and not to be taken too seriously.
But for opponents it marked the dissolution of family, school and nation, and heralded the future arrival of those modern-day curses: political correctness and moral relativism.
Still others see its real victory as the celebration of individualism, ensuring that US-style consumerism would enjoy its takeover of France unimpeded.
For the philosopher and former education minister Luc Ferry, a strong critic of May '68, "it was necessary that traditional values be liquidated, so that global capitalism could spread its wings".
But what both sides agree on are two things: first the fundamental importance of May 1968. No-one says it did not matter.
And second, they agree that calling it "May '68" is merely a form of shorthand.
The student protests were the explosion, but the social changes that led to them went back more than a decade.
May '68 in other words was part of a historical cycle.
Unobserved and unreported, society in the 1960s was straining to the point where finally it could no longer hold.
Then it burst, unleashing a new generation who were to become France's cultural and economic leaders.
The writers of slogans on lecture-room walls went on to earn fortunes in advertising.
Similarities and contrasts
Is there anything comparable with the student protests of 2018?
On one level, perhaps. Today's protesters are pushing a left-wing agenda based on the idea of universal access to higher education. Not so different.
And true, they are only a tiny minority of the overall student body. But then, famously, the protests of 50 years ago were started by just 100 people in Nanterre.
Go any deeper though and the comparisons fall apart.
In May 1968, the students were moving with the sweep of history.
Times were changing, and they were part of the change.
They were optimistic because they knew the coming epoch was theirs.
By contrast, today's student protesters are pessimistic, because they sense their time has gone.
The French university system that they defend has been an abject failure. Today, only a third of students complete their degree courses inside the normal three years.
Hundreds of thousands drop out because they are on courses for which they are fundamentally unsuited.
That is because of the dogma of non-selection, which the Macron government is committed to ending.
Today the student protesters call not for change, but for preservation.
They are at the tail end of a historical cycle, not at its point of maximum momentum. Unlike in May '68, they have no significant echo in society as a whole.
All they can do is act out their parts. But the play is only half-remembered, the director is absent and the theatre is near-empty.